Soden Gallery opens its doors
Work by some of the art world's leading international names has gone on display in Shrewsbury.
The exhibition of modern British and American pop art has just been launched at The Soden Collection in Wyle Cop.
Artists such as Lucian Freud, David Hockney, Francis Bacon, Tracey Emin, LS Lowry and Sir Terry Frost are all included in the show, which runs until August 6.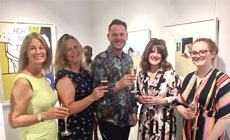 "We had a very successful preview evening, attended by over 50 guests from around Shropshire, and the reaction was wonderful, with people being very excited about the quality of art we have on show here," said Jonathan Soden, who opened the gallery in Wyle Cop last year.
"It is the first event of its kind in the Midlands and we are expecting visitors from across the country over the next few weeks who want to see these museum-quality lithographs and etchings by some of the world's leading artists of the 20th and 21st century.

"As well as the British names, which also include Anish Kapoor, Patrick Caulfield, Howard Hodgkin and Sandra Blow, we have work by major American artists such Roy Lichtenstein and Jim Dine and sculptures by Sir Jacob Epstein.
"This is a huge deal - London has a few commercial venues specialising in these artists but these works very rarely make it outside of the capital.

"We are really looking forward to welcoming customers here to Shrewsbury over the next few weeks," Jonathan added.
Prices for the pieces on sale range from £250 up to several thousands of pounds for the most exclusive works.
Back