Ruth Borchard Collection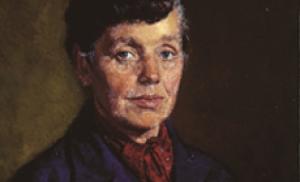 From 25 March until 25 June 2017, The Lightbox gallery and museum will present 'Ruth Borchard Collection: Artists' Self-Portraits'.
An exhibition displaying one hundred self-portraits by significant modern British artists such as Michael Ayrton, Cecil Collins, Roger Hilton, Ithell Colquhoun and Carel Weight. With pieces dating from 1921 to 1971, the exhibition provides a unique overview of this era in Modern British Art.

The Ruth Borchard Self-Portrait Collection was the life-long project of the author and patron of the arts Ruth Borchard (1910-2000). Born in a village near Hamburg, Ruth and her husband Kurt Borchard fled Germany as Jewish refugees in 1938, eventually settling in Reigate, Surrey. Between 1958 and 1971, Ruth Borchard collected one hundred self-portraits by British and British-based artists, all of which will be shown in this comprehensive exhibition.

Inspired by personal works of literature such as diaries, autobiographies and letters, Borchard was struck with the idea to collect introspective art in the form of self-portraits. Setting herself the modest budget of 21 guineas per artwork, equivalent to approximately £2000 in today's money, collecting existing works and commissioning new pieces soon became a passion.

Visiting avant-garde London galleries and student art exhibitions throughout the 1950s and 60s, the significant collection of modern art grew to include watercolours, gouache, oil paintings, lithographic prints, sketches, and one sculpted relief, by both established and up-and-coming artists.

Borchard herself once wrote: 'one of the greatest satisfactions of my collection: about one in three of the self-portraits were done because of my request. They would not exist but for that. It makes me feel creative at one remove.'

The exhibition will be shown in the Upper Gallery, with selected pieces displayed along the wall outside the gallery, leading the viewer in. Bringing together the entirety of Borchard's collection, the styles vary from detailed, literal likenesses, to abstract, symbolic depictions of the artists, drawing the viewer to consider the artists in an extremely personal way.

Highlights of the exhibition include Carel Weight's self-depiction from 1930, tentatively and suspiciously eyeing the viewer, Scottish painter Anne Redpath looking strong and austere in 1943, Roger Hilton's wry, dishevelled pencil sketch from 1966, and the last self-portrait collected, Lucinda Mackay's oil painting of a hippie-chic young woman in 1971.
Image: Portrait of Ruth Borchard by Michael Noakes (1958) ©Ruth Borchard original collection courtesy Piano Noble.
Back