'It's The History Man!' at Arundel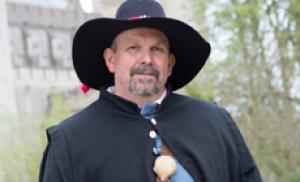 Historical characters will come alive at Arundel Castle in West Sussex this season, with the return of It's The History Man!
Visitors will be able to meet historical interpreter Paul Ullson in a range of guises and find out what life was like in Sussex in years gone by.
Set to inspire young and old minds alike, visitors will have more opportunities than ever before to enjoy It's The History Man!, with 40 planned performances from April to October in different areas of the Castle.
This year, two new characters have been added to Paul's already impressive repertoire - a Tudor Explorer, who sailed around the world and returned to England with new spices and foods, and a Viking Trader who lived in Sussex when the Danish first raided and then became settlers during the 10th and 11th centuries.
Ideal for anyone learning key stages 1, 2 or 3, It's The History Man! will also welcome back the popular Executioner, Medical Surgeon and Norman Lord.
Castle Manager, Bryan McDonald, said: "We are delighted to welcome back It's The History Man! with new characters and more dates than ever before to help celebrate the 950th anniversary of the Castle's initial construction. Paul is a true professional with an incredible wealth of knowledge, transporting visitors back in time with historical tales, clothing and crafts."
Paul will be sporting authentic expertly made costumes and instruments, and acting out characters that had an impact on Sussex and the surrounding area over the past 950 years.
It's The History Man! will be at Arundel Castle on:
Medieval Scribe (Stone Hall) – 11 April, 15 August, 30 September, 24 October
Medieval Pilgrim (Stone Hall) – 18 April, 14 July, 09 August
Medieval Doctor (Stone Hall) – 19 April, 21 August
Medieval Herald (Stone Hall) – 11 August, 31 August, 27 October
Medieval Herald (Fitzalan Chapel) – 13 April, 13 July
Medieval Priest (Fitzalan Chapel) – 04 August
Civil War Doctor (Fitzalan Chapel) – 14 August
Medieval Scribe (Fitzalan Chapel) – 18 August
Norman Knight (The Keep) – 12 April, 30 August
Executioner (The Keep) – 20 April, 07 August
Crusader (The Keep) – 23 April, 31 May, 16 August
Viking Trader (The Keep) – 03 August, 22 August
Norman Crossbowman (The Keep) – 10 August, 24 August
Norman Lord (Stone Hall) – 21 April, 12 July, 21 October
Tudor Explorer (Stone Hall) – 22 April, 30 May, 02 August, 23 August, 01 September, 22 October
Civil War Surgeon (Stone Hall) – 02 June
18th Century Smuggler (Stone Hall) – 17 August, 29 August
For more information on Arundel Castle and its events calendar, please visit: www.arundelcastle.org.
Back