New Van for Stratford Butterfly Farm!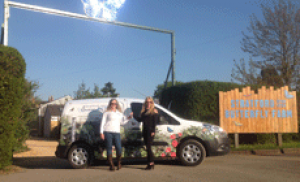 The latest edition to the Stratford-upon-Avon Butterfly Farm has arrived in the shape of a stunning, bespoke, butterfly van!
Jan Revell of "The Graphics House", a local company specialising in graphics, printing and promotional materials, handed the keys over on Friday 7 April.
Jane Kendrick, Marketing Manager at Stratford Butterfly Farm said "We are delighted with our colourful, new butterfly van and hope that it becomes a familiar sight in and around Stratford-upon-Avon. If you do see the van, make sure you give us a wave!"
To see hundreds of spectacular butterflies, insects, reptiles and spiders visit the Butterfly Farm from 10am to 6pm (last entry 5:30pm) every day of the week.
For more information including admission prices and group rates, please visit the website at www.butterflyfarm.co.uk or telephone on 01789 299288.
Back