Classic Cars for Gaydon Spring Classic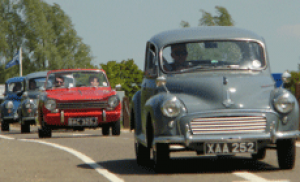 The nostalgic Gaydon Spring Classic gathering takes place at the British Motor Museum on Sunday 14 May.
Owners of classic cars, aged 20 years and over, are encouraged to come along and display their cars at the event.
Those arriving in a qualifying vehicle will be able to get into the Museum at the special discounted rate of just £9 per person, as opposed to the normal £14. This special rate will also include entry into the new Collections Centre where over 250 reserve collection cars are stored and entry to the UK Slot Car Festival which is taking place within the Museum on the day.
Classics can arrive anytime from 9:30am. The Museum will be open from 10.00am and the Café will be serving breakfast and refreshments. The Collections Centre opens at 11am.
To find out more about the British Motor Museum please visit www.britishmotormuseum.co.uk or call 01926 641188.
Back