Over 500 Mini's & Metro's go on Display!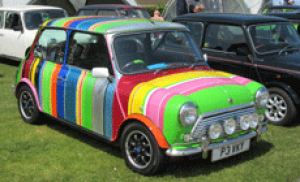 The National Metro & Mini Show, which made its debut last year, is set to return to the British Motor Museum on Sunday 4 June from 10am – 4pm.
Over 500 of these small iconic vehicles will go on display at this unique one day show aimed at all those that love Mini, Metro and MINI's (BMW).
Throughout the day there will be a number of competitive and social competitions including a Concours, Show 'n' Shine and a fun Non-Cours with awards such as the 'Clean Me' award for the dirtiest car, 'Beige' award for the most boring colour scheme, the 'Mini Me' award for the car that looks most like its owner and 'Rusty' award for the rustiest but road legal car.
Other highlights of this exciting show will include a Car Gymkhana where entrants have to match a pre-set time around a course as closely as possible, Best Club Stand, a Metro/Mini and MINI's Friends and relations display area plus many other feature displays.
Tom Caren, Show Manager at the British Motor Museum said, "Last year's show was a phenomenal success so we're really excited about how we can make this show even better! The show aims to bring both iconic cars together in a fun way no matter what their age or condition especially with our non-cours classes".
Tickets for the show cost £10 in advance or £14 on the day for adults, £6 in advance or £9 on the day for children, £10 in advance or £12 on the day for concessions and £39 on the day for a family. A camping pass is available for the Saturday evening and costs £25 per pitch. Access is from 4pm on Saturday to 7pm on Sunday.
To find out more about the British Motor Museum please visit the website at www.britishmotormuseum.co.uk or call 01926 641188.
Back