Is there still life in Still Life?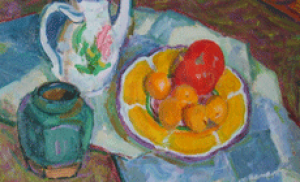 From 15 July – 1 October 2017 The Lightbox gallery and museum will present 'Is there still life in Still Life?', a new exhibition that will feature Modern British and contemporary interpretations of a humble genre with a centuries-old tradition.
Showcased by works drawn from The Ingram Collection, the exhibition will pose the question of still life's ongoing relevance, with works in a variety of styles by artists such as Ruskin Spear, Sir Anthony Caro, Mark Gertler, Anne Redpath and Mary Fedden.

As the lowest in the five of the 'hierarchy of genres' of art set by the French Academy in the seventeenth century – the first four being history painting, portraiture, scenes of everyday life and landscapes – Still Life was originally considered a lowly form of art for not featuring human subject matter. Paintings typically depicted an arrangement of inanimate, natural or man-made objects which might represent material pleasures, religion, love, the afterlife, or serve as a reminder of mortality.

This exhibition will feature Modern British responses to this classical genre ranging from the earliest piece included, 'The Doll' (1914) by Mark Gertler, a deeply coloured painting with an unnerving wooden doll among the assembled objects; to 'Orange and Green Still Life' (1957) by Mary Fedden, an artist known for her vibrant and thickly-brushed still life paintings; alongside Sir Anthony Caro's sculpture 'Writing Piece – Hand' (1978), a more abstract interpretation of still life formed by assembling found steel objects into an arrangement that almost resembles handwriting. Proving that current artists are still drawn to the genre, these pieces will be shown alongside contemporary still life responses.

The Ingram Collection

The Ingram Collection is one of the largest and most significant publicly accessible collections of Modern British Art in the UK. Founded in 2002 by serial entrepreneur and philanthropist Chris Ingram, the ever-expanding collection now spans over 100 years of British art and includes over 650 artworks. More than 400 of these are by some of the most important British artists of the 20th century, amongst them Edward Burra, Lynn Chadwick, Elisabeth Frink, Barbara Hepworth and Eduardo Paolozzi.

Through an ongoing programme of loans and exhibitions, The Ingram Collection works in partnership with galleries, innovative spaces, new artistic talent & marginalised artists to bring art to the widest possible audience. A large part of the collection is at present on medium-term loan to The Lightbox gallery in Woking, Surrey, where it is featured in a programme of temporary exhibitions and as a permanent display in the public galleries.
Image: Edward Le Bas (1904-1960) Still Life with Coffee Pot Undated Oil on Canvas © The Estate of Edward Le Bas.
Back