October Half Term & Halloween Adventures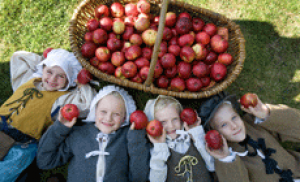 Shakespeare's England is offering a host of fun things to see and do around October half term (21– 29) October including plenty of spooky entertainment!
Meet the Pumpkin King, take part in the Warwick King James Festival, watch firework displays, hear ghost stories and follow ghost trails, enjoy apple tasting as well as watching Burlesque and Cabaret!
The wizards of Stratford's most magical attraction are working their magic ready for Halloween as a spooky atmosphere stretches its ghostly arms throughout Magic Alley. During October guests will be amazed, spooked and surprised as the wizards create a bewitchingly bespoke adventure based on the Lost Years of William Shakespeare. Follow the clues and solve the puzzles to be rewarded with a treat – an audience with the Pumpkin King in his throne room. If you don't enter into the 'spirit' he might just play a trick on you!
The Royal Shakespeare Company is offering families a whole host of fun including celebrating the RSC's forthcoming production of A Christmas Carol with two special workshops and learning specially commissioned choral arrangements of traditional wassailing songs in the run-up to Christmas and Twelfth Night.
Party like it's 1617 in Warwick as the town commemorates the 400th anniversary of King James I's visit from 3 – 5 November. Hosted by Sir Fulke Greville, the Monarch, remembered as the target of the Gunpowder Plot in 1605, enjoyed a 3 day feast at the Lord Leycester Hospital, as Warwick Castle raided by the plotters in 1605, lay in ruins. Visitors can enjoy historic tours, banquets, fireworks and Guy Fawkes crafts, Sunday services in honour of the founder of the King James Bible and his relationship with the town, and a special Bonfire Night at Warwick Racecourse on 4 November.
From 21 – 22 October celebrate the English apple on National Apple Day at Anne Hathaway's Cottage. Make apply crafts, enjoy apple juice using the press and take home some recipes. Apples will be for sale from the orchards with all proceeds going towards the conservation of the Cottage. Prepare for a scare this Halloween and explore the grounds of Shakespeare's New Place. Hear the spooky tale of Shakespeare's ghost, who roams the rooms in search for his quill. Celebrate All Hallows week at Mary Arden's Farm with spooky pumpkin carving (small charge applies).
Visit Ragley Hall for its Fireworks and Halloween Festival on 28 October. Enjoy a night of action, frights and laser lights with Halloween themed firework displays from MLE Pyrotechnics. Activities include a fun fair, face painter, music and fancy dress competition. Food and drink will be available to buy on the night. Tickets on the Gate cost £8 for adults and £6 for children. Discounted tickets can be pre-booked. Doors open at 5pm.
Visit Chedhams Yard for pumpkin carving on 28 October and make your own magic lantern to take home. There is no charge for the pumpkins or candles. Open 10am - 4pm with free entry.
Over at Kenilworth Castle children can be scared by terrifying Tudor tales and enjoy creepy crafts and spooky activities. From 26 – 28 October visitors can visit after-hours, meet the storytellers and discover tales of ghostly apparitions, dastardly deeds, and ghoulish goings-on. Experience the night-time surroundings of this ancient castle, travel back to a time when gruesome goings-on were commonplace, available from 6pm – 7pm and recommended for 5 -10's. On 31 October enjoy an evening tour and meet the storytellers. The children's tour is at 6pm (over 5 years old only) and adult tours at 7pm & 8pm (over 16 years old only).
Visitors to the British Motor Museum are invited to get creative with art-based workshops. Plus there's a brand new interactive trail available every day. Costumed guides will brief visitors on the case and they will need to follow the trail of clues to solve the mystery. It wouldn't be October half term without the Halloween 'Black Cat' trail! Younger visitors will need to search for the Museum cats and find the colours of their eyes.
The annual Leamington Spa Comedy Festival returns to the Royal Spa Centre. Popular Henning Wehn: Westphalia Is Not an Option is selling fast on 8 October. Join a line-up of brilliant women, including Sarah Millican for In Conversation with Standard Issue Magazine on 8 October in the Studio. Rob Rouse will bring his trademark comedic storytelling to Leamington with Are You Sitting Comfortably on 10 October. Comedy Club 4 Kids will also return on 14 October with entertainment for everyone aged 6 and over. The Festival will conclude with its finale on 14 October headlined by Alan Davies.
Stratford ArtsHouse and Ice Crystal Productions are thrilled to be bringing Burlesque and Cabaret back to Stratford-upon-Avon in time for Halloween! A Midsummer Night's Scream is a celebration of the Decadent, Dark Side of Burlesque and Cabaret! The show will feature burlesque, magic, a dance troupe, hula hooping, escapology, balloon popping, pole dancing and sword swallowing! A Midsummer Night's Scream debuts on 26 October at 8pm. Tickets cost £15 for students and £20 for adults.
For more suggestions and family friendly accommodation in Shakespeare's England visit http://shakespeares-england.co.uk
Back