May at Shropshire Hills Discovery Centre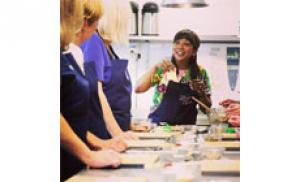 Events this May In our Gallery: Wednesday 25th April to Tuesday 5th June
Shelly Slark - Original seascapes in mixed media

Born in Surrey, with a passion for the outdoors, Shelly Slark's series of seascapes document her love of the Pembrokeshire Coastal Path from Aberdovey to Anglesey. Sensitive compositions in acrylic on canvas, she enhances her interpretations by adding texture with grains of sand, watercolour and ink.


Now a happy resident of South Shropshire where she moved with her two sons, Shelly is enjoying experimenting with printing techniques and photography; capturing Puffins on Skomer, and dramatic sunsets in the surrounding countryside. She is quite content to camp on the sand with her sketch book in hand.

Deborah Bird – Outside the Box

Outside the Box, is Deborah Bird's first exhibition of 20 watercolours. Deborah is inspired by Landscape, place and wildlife, atmosphere, colour and movement. Deborah has adapted different watercolour approaches to creating surface techniques. She says "I love allowing my brain to flow with the painting and not be too fixed."


10am – 5pm 
Free entry. All pieces on display available to purchase.
Become a Habitat Helper! 

Sunday 6th May

Join Discovery Centre Ranger, Amanda Apps and her volunteer work group every first Sunday of the month to give the meadows a little TLC. All ages and abilities welcome.
Bluebell Walk with Keith Pybus
Sunday 6th May - 10.30am – 12.30pm

With expert walk leader, Keith Pybus, who has appeared on TV promoting some of the best walks in Shropshire. Keith will lead you from Shropshire Hills Discovery Centre on a memorable experience to one of the best places in Shropshire to see bluebells, sharing his knowledge and anecdotes of the area.

£5 per person (includes 10% discount voucher to be used in the Discovery Centre café on your return).

Booking advisable, call 01588 676060.
Fusion Food with Sheela Udeshi
Thursday 10th May - 10am-2pm

Sheela Udeshi from Sheela's Kitchen will be sharing her tips and Fusion Food cooking skills with you to celebrate National Vegetarian Week. Enjoy the art of cooking Fusion Food: Indian Pakaros, Middle Eastern Tangy Hummus, Chinese Yuk Sang, Thai Fragrant Curry with noodles. Just £35 per person, booking essential.
Sabrina's Spring Menu

Thursday 17th May - 10am-2pm


After a cold and dreary Winter, we are looking forward to Spring with Sabrina's Spring Menu. Sabrina will be teaching fresh and flavourful dishes that incorporate fresh, Spring ingredients such as parsnips, asparagus, cucumber and spinach. Sabrina will be using her own range of spices which will be available to buy too. Just £35 per person, booking essential.
Discovery Club – Bug City!
Saturday 26th May - 11am-12pm

A club for 3 - 7 years olds packed full of fun things to do encouraging children to get back to nature, enjoy the outdoors and get creative. See all the different minibeasts that are living in our pond and then draw your favourite ones to take home with you. Help build a minibeast city out in the meadows with places they can hide, paths to their favourite food, maybe even a playground from natural found materials. Perhaps we will see some of the residence. Just £2.50 per accompanied child.
May Half Term – Vikings!
Monday 28th May – Friday 1st June 1pm-2:30pm

Become a family from the North preparing to "go a viking" later in the summer. Decorate your shield, carry out chores, take part in a Thing and play Kubbs. Just £4 per accompanied 3 -11 year old.
May Half Term – Eating with Vikings!
Tuesday 29th May - 10am-11:30am
As we wait for our crop, we will prepare nettles and make them into a soup, make a porridge and fritters. Just £7.50 per accompanied 5 - 11 year old.
For information please call 01588 676060
Back