Late Night opening for Les Colombes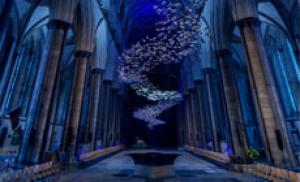 From Thursday, 14 June Salisbury Cathedral will be staying open late on selected nights to allow after hours viewing of Les Colombes, Michael Pendry's installation featuring a 'flock' of 3,000 origami doves, complete with a specially tailored light and sound show.
There will be three late night sessions starting after Evensong at 18.15 and running until 21.30 on:
Thursday 14 June
Thursday 28 June
Thursday 12 July
Guides or staff members will be present to answer visitors' questions.
Curator Jacquiline Creswell, said:
"My original vision was that Les Colombes would exhibited with its specially created sound and light design but in a working Cathedral it is not that easy to schedule that sort of display, so we decided on these late night events as an alternative.
"It is a chance to experience the full drama of the doves. The effect is mesmerising, providing an escape from everyday life and a chance to pause, reflect and contemplate the graceful flock and all it stands for."
Les Colombes opened at the Cathedral on Saturday, 12 May. Originally planned to be part of A New Dawn (a series of events scheduled across the year to mark the 100th anniversary of the end of World War I). It was adopted by the Cathedral and city as a mark of Salisbury's recovery from recent events and remains until 22 July. Inspired by the installation, small flocks of doves can be spotted in business, schools, homes and shops across the city - testament to the Salisbury's recovery and the community spirit.
Back