Buses Festival at British Motor Museum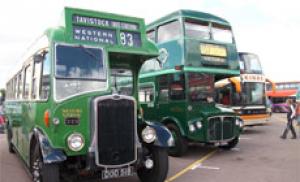 Up to 100 vintage and modern buses will converge en mass when the Buses Festival returns for a fifth year on Sunday 19 August at the British Motor Museum.
Organised by Key Publishing, publisher of Buses Magazine, the festival will feature an impressive display of restored, vintage and modern buses and coaches from around the UK.
Visitors to the Show can enjoy free bus rides on modern and vintage buses around local scenic routes and the Museum's internal roads. There is also a free courtesy bus running between Leamington Spa Upper Parade, Leamington Spa Train Station and the British Motor Museum. A full timetable is available online.
In addition, a number of indoor and outdoor traders will also be joining the Festival bringing a variety of bus related items for visitors to browse and purchase including books, DVDs, models and more - a great place for visitors to shop for a gift or for a new addition to an existing collection.
Entry to the Museum is included in the ticket price and there are over 400 historic British cars to explore both within the main Museum and the Collections Centre. In addition visitors can wander around the new Car S.O.S Exhibition which features 7 cars from the hit motoring TV show Car S.O.S and families can enjoy the outdoor play area and dedicated picnic zone.
Tom Caren, Show Manager at the British Motor Museum stated, "The Buses Festival is a great day out, not only for bus and coach enthusiasts but families as well. This popular Festival has made it one of the best classic and modern bus and coach events. Seeing so many different models across so many decades is a fantastic spectacle to see!"
On the day tickets cost £14 for adults, £9 for children (under 5's are free) and £12 for concessions. Discounted tickets are also available in advance online www.busesfestival.com. Entry to the Museum is also included in the ticket price. Gift Aid Tickets and other promotional vouchers can be used at this show.
To find out more about the British Motor Museum and the Buses Festival please visit the website at www.britishmotormuseum.co.uk/events/buses-festival or call 01926 641188.
Back