Peaky Blinder Parties at Arley Hall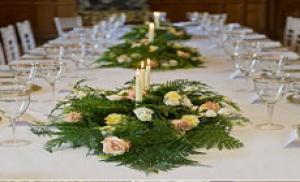 A time of decadence and glamour, the 20s were famous for legendary parties that were truly a spectacle to behold.
Just look at the hit BBC drama Peaky Blinders for inspiration; a stunning country pile, gorgeous fashions, delicious food and drink, and the most imaginative décor and event design one could ever imagine. Fortunately this is not a bygone era and can be recreated to an outrageous manner in Tommy Shelby's very own home, Arley Hall & Gardens.
Whether you're looking for an end of year celebration with a 20s twist, a decadent Christmas party or are looking to liven up a corporate dinner with the dazzling delights of the era, Arley Hall & Gardens is the perfect venue with the ultimate view. Featured on Peaky Blinders as Thomas Shelby's country home, the Hall and surrounding land and architecture make for the perfect backdrop to your event. Our chosen and exclusive caterer Heritage Portfolio will ensure you and your guests have the time of your lives – Peaky Blinder style, where flat caps will be optional but a magnificent time is guaranteed.
To experience the roaring 20s Peaky Blinders style and to learn more about how you could use Arley Hall & Gardens for your event, see our latest offering by clicking here or calling our team on 01565 777 037 for a tailored package.
Back