Illustrated Talk at Museum of Army Flying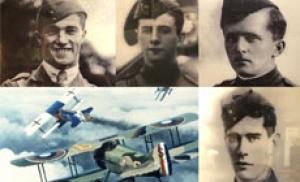 The heroics of the First World War's Air Aces come under the spot light in an illustrated talk at the Museum of Army Flying this October.
With the centenary of the end of hostilities of The Great War just around the corner Group Captain David Baker will bring the stories of pilots to life at 7pm on Thursday 25 October at the Middle Wallop based Museum.
The stories include that of Major James McCudden who recorded a total of 57 victories and personally received the Victoria Cross, DSO and Bar and Bar to his Military Cross from HM King George V.
David said: "Not only will we hear about their battles, often ending in a terrifying dive to destruction, but we also learn something about their aircraft, and their very different personalities.
"All this is set against the backdrop of flying high above the trenches without a parachute while being shot at by friend and foe.
"They were all incredibly determined, brave, respecting their adversaries while still being determined to bring them down."
This will be the last lecture delivered in the Museum ahead of its closure for a £2.5million refurbishment.
For more information and tickets visit www.armyflying.com/events or call 01264 784421.
Back