Pigturesque Hotel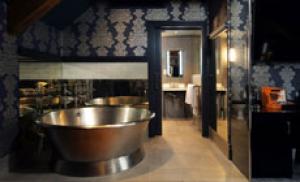 VISITORS heading snout and about in County Durham can now hog the bed in the most luxurious pigsty in the world.
The newly opened Impeccable Pig, at Sedgefield, has converted an old coach house within its grounds into 10 luxurious bedrooms across two floors – and the most spectacular of them all is The Pigsty.
Not only does it boast a seven-foot bed, with Egyptian bedlinen and an ornate panelled headboard, but it also features a large, round freestanding copper and tin bath and walk-in drench rainforest shower.
Its own, private garden, festooned with a canopy of lights, has a four-seater hot tub and an outside sauna and those who fancy a barbecue can even hire their very own chef to do the cooking for them.
Continuing the porcine theme, other rooms include the timber panelled The Whole Hog, Oinkers - with trumpet wall lights and map imagery from floor to ceiling - and Globe Trotter, whose bed is adorned with Moroccan brick walls and deep blue tiles.
French-themed Le Cochon D'or features hanging foliage with blossom and gold tiles, while Three Little Pigs gives a nod to the storybook characters through the use of bricks, sticks and straw.
And, like all the other rooms, Babe, Pigs Might Fly, and Piggly Wiggly feature free standing baths, made from copper, nickel or tin, with The Dirty Pig also boasting a fur lined wall and gold tiling.
Each room includes Egyptian cotton bedlinen, Duck Island toiletries, an Illy coffee maker, Taylors tea, a minibar and an emergency recovery pack for those who may have stayed late in the bar.
The Impeccable Pig is the latest addition to the Ramside Estates portfolio and comes after the company purchased the Grade II listed building, formerly known as the Hope Inn.
With chef Chris Finnigan at the helm, it offers an extensive bistro-style menu and also has a mezzanine level private dining room, which can be hired exclusively for up to 18 guests.
"Our aim in creating The Impeccable Pig was to make it fun, with such great food and drink, that no-one wanted to leave," said general manager Pierre Bertolotti. "And now our fantastic new rooms are finished, they don't have to.
"In designing and furnishing them we have tried to anticipate every single thing the guest may want or need – from superb quality bedlinen and state-of-the-art facilities to inspired, elegant and creative décor.
"We are delighted with the results and can't wait to welcome our first guests."
Back