Lego: Building the Bowes Museum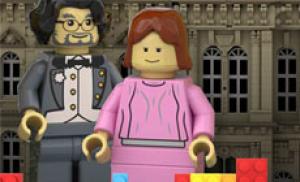 Head to The Bowes Museum this Summer for a fantastical quest of its most treasured wonders recreated in LEGO®.
Spectacular sculptures of the Museum's treasures are being created by renowned LEGO® Artist and Brick This creator Steve Mayes who is turning The Bowes Museum into an imaginative playground featuring a LEGO® Creation Station.
These magnificent LEGO® models will be displayed alongside 15 of the most loved objects, collected by our founders, John and Joséphine Bowes, including the renowned Silver Swan and visitors can have fun recreating these with the popular children's toy.
Our LEGO® Creation Station is where people of all ages can let their imaginations go wild and take inspiration from their own collections to plan and build their own Museum of treasures.
A thought provoking programme of talks, workshops and events has been put together to keep all generations engrossed including:
- Dementia friendly events, opportunities to indulge in relaxing LEGO® away from the hustle and bustle;
- Making stop motion animations with fabulous cartoon characters;
- Learning the tricks of the LEGO® trade to improve building prowess and how to achieve master builder status;
- Learning how to make your own Museum, stunning silver swan or robotic mouse from LEGO®;
- Travelling through time to meet the designer of The Bowes Museum or stepping into the future to collect your own precious things by travelling through space and time;
- Finding out the secrets behind taking brilliant shots of LEGO® creations with our photographer;
- Late night Block Parties where adults can embrace their inner child and get their creative juices flowing with the bricks and a drink; and
- Delving into a Design Laboratory where you can explore the design, science and technology of LEGO®.
The Bowes Museum will celebrate the opening of this exhibition with a family fun day on Saturday 25 May, where visitors can be challenged in our robotics workshops, create vehicles and compete to see how fast they can go on a ramp, have a go at printing with LEGO® and investigate our design laboratory.
Jane Whittaker, The Bowes Museum Head of Collections, said: "The sculptures of our most treasured objects will really take your breath away as will the scale of our LEGO® Creation Station. So, we're calling on the young to help us to collect new treasures and to make the LEGO® Museum of the Future.
There's a real nostalgia to building with LEGO®. It rekindles a youthful optimism - making anything possible. It's a way of disconnecting from our busy world's for a while – it's mindful and therapeutic – and gives us an opportunity to share joyful moments across the generations."
Steve Mayes, Brick This creator, said: "It's been a thrill to recreate the treasures of the Museum in LEGO®. I'm really looking forward to seeing how my creations will spark people's imaginations, what kinds of Museum's they might build and what objects they would treasure."
The exhibition will be open from 25 May until 13 October.
Back