Bacteria-Filled Art Exhibition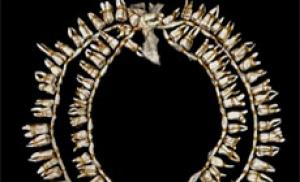 A lab-grown tooth and re-purposed medical equipment are part of a new exhibition now open at the Eden Project featuring intricate artworks focusing on our changing relationship to the microbial world.
The BioArt and Bacteria art exhibition is a solo collection of artworks by internationally acclaimed artist Anna Dumitriu.
The exhibition is located in the Core building, the home of Eden's Invisible Worlds, and will run until June 1.
Anna's art creates conversation around our relationship to infectious disease and its cultural and personal implications. Her work combines traditional art making techniques with the use of lab-generated and biological materials.
Among the exhibition is the "Pneumothorax Machine". This apparatus, originally used to collapse the lungs of tuberculosis patients, has been transformed by intricate carvings and engravings.
Another highlight, the "Microbe Mouth", is a necklace made of porcelain teeth glazed with pigments derived from mouth bacteria, and a tooth that was grown using bacteria.
"The Consultation" sees modernist chairs and tables stained with an antibiotic medicine created in the 1930s.
Meanwhile, "Antibiotic Resistance Quilt" is a traditional embroidered quilt containing traces of drug resistant bacteria.
The exhibition will include works from many of Anna's key projects including her Romantic Disease project which explores mankind's relationship with tuberculosis (TB), from early superstitions about the disease, through the development of antibiotics, to the latest research into the whole genome sequencing of bacteria.
Within this, tiny felted lungs made of household dust are impregnated with the extracted DNA of TB – sterilised of course!
Dr Jo Elworthy, Eden's director of interpretation, said: "We are delighted to be hosting Anna's exhibition at Eden. Her method of combining the old and the new to create something utterly unique is thrilling to see.
"We hope that visitors will feel emotionally engaged with the pieces and will be struck by the unexpected uses of Anna's chosen materials."
Anna was the 2018 President of the Science and the Arts section of the British Science Association. She holds visiting research fellowships at the University of Hertfordshire, Brighton and Sussex Medical School, and Waag Society. She is artist-in-residence with Modernising Medical Microbiology at the University of Oxford, and with the National Collection of Type Cultures at Public Health England.
Her extensive exhibition profile includes The Picasso Museum Barcelona, ZKM, BOZAR Museum of Art, Ars Electronica Festival, The Museum of Contemporary Art Taipei, The Museum of the History of Science in Oxford, The Science Gallery Dublin, The Science Gallery Lab Detroit, The Beall Center for Art and Technology in Los Angeles, The Rockefeller Arts Centre at the State University of New York, and The V&A Museum London, the Science Museum London, and Eden Project.
The BioArt and Bacteria art exhibition is free with Eden admission, Locals' Pass or Membership.
Back