Ella Dorton Exhibition at Humber Street Gallery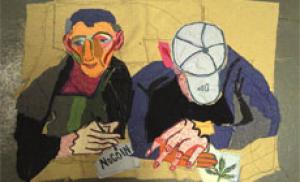 ELLA DORTON JOURNEY TO THE CENTRE OF THE COUCH (COUCHES & OTHER GOOD IDEAS) (EXHIBITION PREVIEW) THURSDAY 30 MAY 6 - 8pm HUMBER STREET GALLERY
Join Hull-based artist Ella Dorton for a preview of her new exhibition in the project space at Humber Street Gallery.
Typically using found fabrics, old clothes, bedsheets, curtains and paint, the artist composes portraits that reflect the people of Hull.
Her interests have recently explored fictional future landscapes that capture drastic ecological change with rising sea levels and continued use of plastics and their detriment on the environment.
On the same night, we have an evening of sound performance with HP Parmley, who has collaborated with Athena Papadopoulos to create a score for A Tittle-Tattle Tell-a-Tale Heart. If you would like to attend this event also, please book your space here.
FIND US
64 Humber Street, Hull, HU1 1TU
info@humberstreetgallery.co.uk
Tuesday - Sunday, 10.00 - 18.00.
First Thursday of the month open until 20.00 during exhibitions.
Back