Summer fun at The Bowes Museum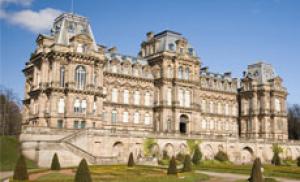 If you're looking for things to do over the summer holidays The Bowes Museum has lots for you to see and do, no matter your age or the weather.
You can while away many happy hours following the LEGO®: Building The Bowes Museum trail and recreating different items from our collection in LEGO® mini build stations set up around the Museum before ending up in the Creation Station with over 60,000 bricks to unleash your imagination on.
For those who love drawing there's the chance to find out what life's really like for illustrators with an insight into how to become one, tips of the trade and ideas on how to shape different characters in the Pirates, Pants and Wellyphants exhibition, which is all about Nick Sharratt's world.
There's the chance to see ceramics artist Frances Priest's most recent work inspired by Eastern ornaments, colours and patterns, set amongst historic Chinese and Japanese porcelain from the Museum's own collections in the exhibition Frances Priest: Influences of the East.
You can also visit our exclusive exhibition Hockney and Hollywood, which includes a life size nude photo montage of the actress Theresa Russell by David Hockney. It was commissioned by the director, Nicolas Roeg, for the film "Insignificance", which starred his then wife, Theresa Russell as Marilyn Monroe. It also includes original photographs taken by Roeg of Hockney at work, in a rare behind the scenes glimpse of one artist being observed by another.
We're joining forces with the TCR Hub and The Witham to launch a childcare solution for working families with the creation of the Barnard Castle Holiday Club. It runs from 12 August until 23 August. Each venue has exciting activities for children aged 8 and upwards across the duration of the holiday club. All the venues have fully trained and DBS cleared professionals taking the sessions.
The Bowes Museum sessions are from 8.30 until 5.00 and cost £25.00 per day, £28.50 with lunch, or £20.00 per day, £23.50 with lunch for siblings and multiple bookings.
The Witham's are from 9.30 until 4.00 and TCR Hub from 10.00 until 3.00pm.
We also have lots of different events going throughout the holidays, including:
Leganimals, 5 – 9 August, 11.00 – 4.00, where you can go wild and create an animal, a robotic mouse of a swan with our LEGO® team.
Animal robots, 6 August, 11.00 – 12.30 where you can join Oli Welham and have fun making mechanical animals with robotic LEGO®.
10 Minute Talk – A Pretty Pink Teapot, 7 August, 2.15, join curator Dr Howard Coutts to find out more about the history of our exquisite Sèvres teapot, which has been reproduced in LEGO® as part of our LEGO®: Building The Bowes Museum exhibition.
Top Shots! 12 August, 11.00 – 12.30 Meet Museum photographer Jason Hynes and get some top tips for taking fantastic photographs. Jason will help you turn your LEGO® creations into still art and answer your questions about photography.
Awesome Architecture, 12 – 16 August, 11.00 – 4.00 Build, build, build, skyscrapers, towers and more! Find out how the Museum was built and how to build your dream home.
Painting and Drawing Architecture in the Open Air, 15 August, 10.00 – 4.45, includes morning refreshments £45 adults, £43 friends booking required. Join artist Chris Mouncey for an enjoyable day painting The Bowes Museum in the fresh air. Chris will show you different painting techniques to help you create inspiring architectural pictures and answer your questions throughout the day. This workshop is part of the events programme for LEGO®: Building The Bowes Museum. In the event of inclement weather, the workshop will be held inside the Museum. A full itinerary for the day and a list of materials you need to bring with you is available on the Museum website.
Time Travellers, 19 – 23 August, 11.00 – 4.00 Fly to the moon and back or travel through time with a week of robots, rockets and space. Where will your mission take you?
Museum Book Group, 20 August, 2.30 – 4.00 Everyone is welcome at this informal book group in the library. Bring along a book (or two), talk about it and have a lively discussion. Books can be about any subject, fiction or non - fiction, contemporary or modern, poetry or prose. The group meets on the third Tuesday of the month. Please just drop in to see what it's like or email Judith.phillips@thebowesmuseum.org.uk for more information.
Meet a time travelling architect, 21 August, 11.00 – 12.30 Meet Monsieur. Pellechet, the man who designed The Bowes Museum. Learn fascinating facts about how he created this amazing building and show him your own architectural LEGO® creations.
Summertastic, 24 August, 11.00 – 4.00 Summer's not over yet, so bring a picnic and join us for the bank holiday weekend. We'll have plenty to keep everyone entertained with our family friendly exhibitions and activities galore.
Campfire Cooking, 24 August, 1.00 – 3.00, £7.50 per child, booking required. Join Brightwoods Forest School CIC around the campfire and make your very own delicious sweet and savoury damper breads. A delicious addition to your family fun day picnic! Book your ticket and then drop in at any time between 1 and 3.
Design Laboratory, 27 – 30 August, 11.00 – 4.00 Explore science and technology, fashion or jewellery. Grab a pencil and paper, some LEGO® and get creative with the LEGO® LAB technicians.
Singing for the Brain - LEGO®: Building The Bowes Museum, 6 September, 10.30 - 12.00noon FREE ENTRY Singing for the Brain sessions use singing to bring people living with dementia together in a friendly and stimulating way. In this session, we will explore the current LEGO® exhibition together, before enjoying some refreshments and a themed singalong. For more information and to book, please contact Sharon Simms on 0191 3890400 Sharon.Simms@alzheimers.org.uk To learn more about Singing for the Brain, please visit: https://www.alzheimers.org.uk/get-support/your-support-services/singing-for-the-brain
Draw Along with Nick Sharratt, 14 September, Join Illustrator Nick Sharratt and find out the secrets of his trade! He'll be leading a drop in workshop for people wanting to hone their drawing skills.
Learning with LEGO®, 18 September, 5.30 – 6.30 Booking required. Join Simon Ayres from Barnard Castle Preparatory School for a fun and interactive talk about how playing with LEGO® helps us learn. Come along and find out new techniques to help make maths enjoyable for everyone.
There's lots going on in the grounds too. Fancy a game of tennis? You can get the key for entry to the tennis courts for £8 from reception. If you need a rest after following the nature and word scramble trails, woodland walks or orienteering maps you can relax with a picnic as the little ones run riot in the play area or join in some friendly battles with some of the giant outdoor games in the parterre garden.
You can cool down with an ice-cream, drink and light snack from the Gatehouse Café or enjoy something more substantial from Café Bowes. Remember to pop into the Shop before you leave for beautiful and inspirational gifts, books and stationery to remind you of your visit.
Don't forget you can take advantage of our annual pass which gives you unlimited access to many of these events and exhibitions and much more across the entire year. An adult annual pass is £14.00, concessions £12.00; a family annual pass is £30.00 (2 adults & up to 4 young people aged 5-17); a family annual pass £16.00 (1 adult & up to 4 young people aged 5-17); Student day entry £6.00; Under 18 day entry £5.00 (under 14s must be accompanied by an adult); Under 5s free; Carers free.
Back