British Ironwork Centre to Host Marathon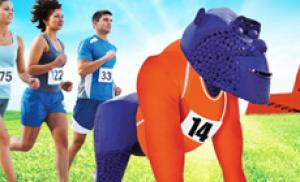 On Sunday 30th April we will proudly be hosting the inaugural Oswestry Half Marathon, Shropshire's most theatrical running event, which has over 750 runners signed up and raring to go already!
Our 90 acres of grounds lends itself perfectly to hosting events, with plenty of free parking, a café serving delicious homemade cakes and the most fantastic collection of metalwork you've ever seen, you'll have plenty to keep you occupied both before and after the race, whether you're taking part or cheering the runners on.

Take off to the inspirational sound of Chariots of Fire played by a full Silver Band, your blood is bound to be pumping as you weave your way through the sculpture park. Keep your eyes peeled for herds of leaping wildebeest, sinewy cheetahs, towering elephants and a band of the most colourful gorillas lining the route!
After a testing hill between mile marker six and seven it'll all be downhill, ideal for securing a personal best. As you cross the finish line you'll receive a medal like no other and a fabulous goody bag!
Once you've caught your breath you can celebrate your achievement with delicious food stalls and fun filled activities for all the family!
Back