A Perfect Trip for Group Visitors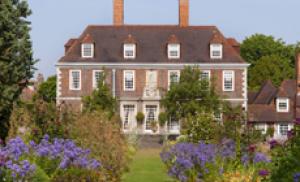 The Salutation Gardens are a plant lover's paradise. Designed by Sir Edwin Lutyens, the 3.7 acres are divided into a series of symmetrical "rooms", each with its own wonderful surprises.
Our Head Gardener and his team are constantly experimenting and refining their designs - an approach that keeps The Salutation Gardens recognised as amongst the finest in the country.
Located in Sandwich, Kent, 20 minutes from Canterbury and 15 minutes from the Port of Dover, we are perfectly placed to welcome groups of visitors from the UK and abroad. Our gardens sit within The Salutation estate, with a charming Grade 1 listed hotel, which is ready to welcome overnighting guests.
Stroll through our stunning gardens at your leisure. Perhaps book one of our popular guided tours for an experts perspective on our planting style and methodologies. We are always happy to answer any questions you may have.
Our homemade Afternoon Tea selection can be booked in advance, meaning you can enjoy our beautiful gardens for longer.
Simply call us on 01304 619919 to discuss your requirements.
Back