Arundel Castle Takes Visitors Back 950 Years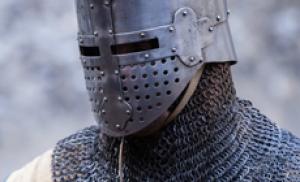 Arundel Castle in West Sussex will kick-start its open season with a brand-new event - Warriors of Arundel Castle on 8-9 April.
In celebration of the 950th anniversary of the Castle's initial construction, the event will relive key moments in the Castle's history between 1067-1644 through costume, crafts, weapons and thrilling combat displays.
Relevant for students learning key stages one, two and three, the Warriors of Arundel Castle event will begin with the Castle's construction which was ordered on Christmas Day 1067 by the newly-crowned King, William the Conqueror. The purpose of the Castle was to protect Sussex from attack and locating it on the River Arun gave it its best defensive position.
Between the 12th and 17th centuries, Arundel Castle endured three dramatic sieges. The first resulted in the building being surrendered after three months, and the second siege was the result of a 20-year long civil war between rival cousins Stephen and Matilda, battling it out for the throne. The third and final siege saw 1,000 Royalists pitted against 10,000 Parliamentarians who fought for 18 days over the rights of the Castle.
The final battle, which ended in 1644, concluded 600 years of major combat that helped shape our nation. The Warriors of Arundel Castle event will touch on each of these historic sieges and showcase the women of the Castle who played a major role in protecting both their families and the building throughout its turbulent history.
Paul Ullson, Coordinator of the Raven Tor Living History Group said: "This year we celebrate the 950th anniversary of the Castle's initial construction and that's where our warriors' story will start. From there, visitors will be exposed to the glorious sights and sounds of nearly 600 years of thrilling battle.
"This event is ideal for families, groups or individuals who are keen to learn more about our country's fascinating and vivid history. It has been a joy putting this event together and the team and I can't wait to showcase it in April."
April also sees the return of the Annual Tulip Festival with over 36,000 flowers on display, and the Normans and Crusaders event which takes place over the Easter holidays between 15-17 April.
Arundel Castle will reopen on 01 April from 10am until 5pm, Tuesday to Sunday, Mondays in August and Bank Holiday Mondays. Tickets start from £11.
For more information regarding all the 2017 events at Arundel Castle, please visit www.arundelcastle.org.
Back