Amberley Museum: Open Season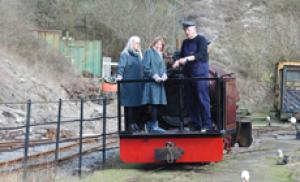 Amberley Museum's open season got underway with two excellent events. Firstly science week, running from Friday 10th March until Sunday 19th March with a choice of trails to follow leading to various exhibits of scientific interest, both part of the Museum's collection and as visiting extras.
Follow our electric transport journey to discover buses, electric cars and even a Sinclair C5!
The Museum's spring ale festival was a great success last week. This is the second time it's been held and lots of happy ale and cider drinkers tasted a variety of local tipples, in the beautiful Museum surroundings, with live music and did we say lots of real ale? If you missed it, put 1st to 3rd September in your diary now for our even bigger Ale@Amberley real ale showcase.
We look forward to Saturday 25th March, the second in our popular new Art@Amberley series. For just £1come and make beautiful felt flowers with expert guidance. If you pre-book you can benefit from Museum entry at just £5. On the day you pay the normal entry price plus £1 for the activity, if spaces are available.
On Sunday 26th March at our popular Mums Can Do event, mums can try their hand at pottery, train driving and many other activities. All mums accompanied by their paying child get free entry to the Museum on this day. Don't miss it!
Amberley Museum is a remarkable heritage site in the Sussex South Downs, with 36 acres to explore and over 40 exhibit buildings to visit, focusing on industrial and transport history. Take a ride on the narrow gauge railway and historic bus. Exhibits include the telecommunications hall, electricity hall, working printshop, lime kilns, steam engines and more.
The Museum is home to traditional craftspeople such as the woodturners and blacksmith, with a café, gift shop, nature trails and picnic areas. The Museum is accessibility friendly and dogs are welcome on site. We have been awarded the Kennel Club 'Best Dog Friendly Attraction Award' for Days Out 2016.
We are hosting over 50 events in 2017 from children's activity days to classic vehicle shows. We open 8th March to 29th October. Please see our website for full details, www.amberleymuseum.co.uk
Back