Jurassic Hike up Snowdon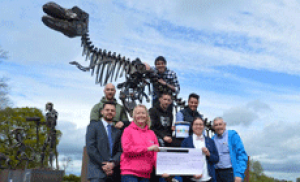 In September 2016, an unthinkable feat took place, whereby a sculpture of a T Rex was manually hauled up to the summit of Snowdon to raise funds for Hope House.
The sponsorship monies have now been presented to the Charity, while the team of insane yet incredible volunteers who completed the unthinkable, have all now only just recovered.
The statue originated from the British Ironworks in Oswestry and weighs in access of 200 kilos of scrap metal.

The challenge or should we say the cruel, almost crippling task was the brain child of Jay Moore, the now conservative nominee for a district within the Oswestry borough.
A handsome £1580.00 was the sum raised and from all participants, it was the hardest donation ever painfully collected.

Accompanying Jay, were several brainwashed and reluctant victims, being two solicitors practices, Martin Kaye based in Telford represented by George Heron and Mercury Legal in Chester represented by Jack Keegan.
Two high performance physical groups from Oswestry which were Team Elite represented by Richard Cosgrove and fellow martial artists plus CrossFit Oswestry, represented by Rob and Claire Walker.
Woodside school represented by Poppy King, Oswestry Cambrian Rotary represented by Jay Moore, Benjamin Knowles, Sarah McManus, Stephen Fenn, Andrew Fenn and Alison Roberts representing the British Ironworks Oswestry.
Back