Poole's Free Family Folk Festival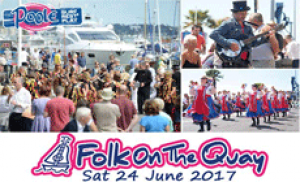 Folk dancing, ceilidhs plus an international & local live music line up across 3 outdoor stages.
Folk on the Quay is a FREE folk music festival in Poole with outdoor music stages, two ceilidh dances and over twenty teams of morris dancers in the streets overlooking Poole's lovely Harbour.
Special thanks to Poole Tourism for their support! Without them, this festival would never happen. ECC Records (Lush's music arm) are on board again this year with wonderful music from Marry Waterson.
Back