Big Cats Have Lion's Share of Bluebells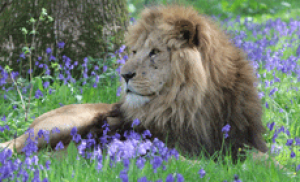 Longleat Safari Park's most famous residents are clearly enjoying the arrival of spring, which has carpeted their woodland home with a stunning display of native bluebells.
Thousands of beautiful bluebells are flowering in woodland across the Wiltshire estate, and there's a bumper crop of the delicate wildflowers throughout the lions' enclosures; much to the apparent pleasure of its resident big cats.

"The lion enclosures are always the best place to see bluebells and it provides a unique treat for our visitors who can enjoy a quintessentially British wildflower scene with the added attraction of a pride of lions," said Longleat's Ian Turner.

"Although the 'warning' signs have clearly had no effect whatsoever on the lions, we're hoping they will raise a smile among our visitors. Obviously no one would be foolhardy enough to even consider getting out of their cars," he added.

The majority of native bluebells are found in old and ancient woodlands - sites that have been continuously wooded for at least four centuries. It is thought that more than half the world's bluebell population is found in the UK.
Back