Belleek's Collectors International Society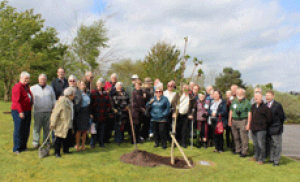 Belleek Pottery continues to celebrate their 160th anniversary with a special event hosted last weekend. The Belleek Collectors International Society Gathering took place in Fermanagh and was attended by more than 40 collectors.
With delegates travelling from across the USA, Canada, UK and Ireland to attend this very special event, the weekend culminated in a commemorative tree planting ceremony in memory of Dr George Moore, CEO of Belleek Pottery, who passed away in 2014.
John Maguire, Managing Director of Belleek Pottery explains "Our Belleek Collectors International Society welcomed its first members in 1979. Since then membership has grown and we now have in excess of 6,000 members in 20 chapters across the globe. From New Zealand to New Jersey, collectors of Belleek are exceptionally loyal to the brand, in fact one member holds the largest collection in the world at 7, 500 pieces.
One society member mentioned over the weekend that it is not only the craft and skill of the people who work here that makes Belleek truly unique but it also makes it a collectors dream simply because handcrafted Belleek is so individual".
Patricia McCauley, Belleek Pottery Visitor Centre Manager, said of the event,
"We have been welcoming collectors to Belleek since the society first began. This event was of particular significance as it is the first international collector gathering in Belleek Pottery since Dr George Moore, CEO of Belleek Pottery, sadly passed away".
The weekend delivered a full itinerary for the collectors. From bespoke painting workshops, to presentations on the industrial heritage, geology and social history that surrounds the story of the pottery. In addition more than 20 local musicians from the Belleek Comhaltas branch provided collectors with a selection of traditional tunes.
"As the celebrations continue for Belleek Pottery in 2017, we are continually realising the significance of this achievement," John Maguire continues, "so many businesses have closed down over the years, Belleek is really proud of its heritage and holds its head high as the oldest working pottery in Ireland as well as one of this islands oldest manufacturing businesses. Our collectors continue to promote Belleek world-wide and we have a huge appreciation for this."
For more information on the Belleek International Collectors Society and for events happening throughout 2017 to celebrate our 160th anniversary, visit www.belleekpottery.ie or follow us on Facebook.
Back