Golden Year for England's Finest Stone Town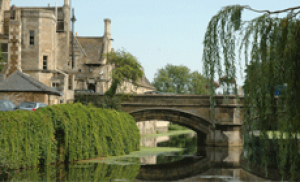 Described by Sir Walter Scott as "the finest sight on the road between Edinburgh and London", Stamford in Lincolnshire is set to commemorate a golden year in 2017.
With 600 listed buildings, unspoilt Georgian streets and mellow picture postcard limestone architecture, the town will celebrate the 50th anniversary of its award as Britain's first urban conservation area.
Heritage groups, architectural specialists and community organisations have joined forces under the banner of Stamford50 to organize new town trails, talks, events, a heritage skills fair and even a themed beer.
The summer and autumn programme will culminate in the town's biennial Stamford Georgian Festival in September, organised by South Kesteven District Council.
As the country's first entire town to be protected, Stamford offers a glimpse of Old England – something that has made it a period drama location hot spot for both television and filmmakers.
From Keira Knightley's 2005 cinema hit Pride & Prejudice to BBC TV's classic series, Middlemarch, Stamford has proved a rich draw for location scouts.
That mix of history, heritage and architecture also lay behind Stamford's designation as the first Conservation Area in 1967, helping to protect what many regard as the most perfectly preserved Georgian stone town in the country.
Sir John Betjeman called Stamford "the best town we have", while historian W. G. Hoskins remarked: "If there is a more beautiful town in the whole of England, I have yet to see it" and art historian Nikolaus Pevsner dubbed it "the English country market town par excellence".
Add in its vibrant sense of community, niche shopping and historic hostelries and it's no wonder that the Sunday Times gave it the accolade of the UK's best place to live in 2013.
Built on Jurassic rock, this gem of a market town grew rich on the wool trade but its 600 listed buildings range from remnants of medieval monasteries to fine 18th century town houses, as well as five medieval parish churches.
During the 18th century, it became a fashionable coach stop on the Great North Road from England to Scotland, a history reflected at The George Hotel – one of England's greatest coaching inns – where today visitors will see a door marked "London" and one marked "York". These panelled rooms were the waiting rooms for passengers as their coaches changed horses in the hotel yard. At the height of its popularity around 40 coaches passed through Stamford every day.
The town's Arts Centre, built in 1768, is one of the oldest provincial theatres in England. Browne's Hospital almshouses, built in 1475 around a cloister garden, are one of the best surviving medieval almshouses in England with immaculate stained glass and original furnishings and still home to 13 residents. Browne's will be open to the public during the Georgian Festival
Today, Stamford attracts visitors for not only its rich architecture and history, but also its thriving independent shops, especially antiques, and quality local food and drink.
The River Welland also winds its way through Stamford and the picturesque Stamford Meadows is a popular spot for riverside walking and picnics.
For information on and accommodation in Stamford, see www.southwestlincs.com
For the full programme of events and information about September's Georgian Festival, visit www.stamfordgeorgianfestival.co.uk
Back