Motoring Pioneer who Saved Kenilworth Castle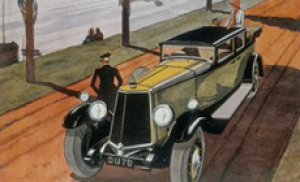 A new exhibition has just opened at Kenilworth Castle and Elizabethan Garden in Warwickshire, celebrating motoring pioneer John Davenport Siddeley, 1st Baron Kenilworth and the founder of Armstrong Siddeley Motors, who bought the castle in 1937.
Working with the Armstrong Siddeley Heritage Trust, English Heritage has gathered a host of fascinating artefacts and ephemera to tell the story of Siddeley's lifelong association with the glamorous worlds of motoring and aviation. The new exhibition – 'Speed and Power: John Siddeley, Pioneer of the Motor Age' – brings his work back to the castle gatehouse, which housed the company's drawing office during the Second World War after Armstrong Siddeley's Parkside Works in Coventry were bombed during the Blitz.

Siddeley developed racing bicycles in the 1890s and went on to create the hugely successful British engineering group, Amstrong Siddeley, best known for producing luxury motor cars and aircraft engines. In the interwar years, Armstrong Siddeley was celebrated for its luxurious cars, and wealthy clients included the future King George VI who took the Queen Mother on their honeymoon in his own Siddeley in 1923.
Exhibition highlights include a painting of Siddeley - loaned by the Siddeley family - by Frank Salisbury, the celebrated artist known for his portraits of Winston Churchill, the Queen and Franklin D. Roosevelt; a Grand Prix d'Honneur trophy won by one of Siddeley's cars in the 1931 Monte Carlo Rally; a 1917 letter from Windsor Castle following Queen Mary's visit to Coventry's Parkside Works and Sphinx mascots and items relating to Siddeley's glamorous cars.
Kenilworth Castle, one of England's finest and most extensive castle ruins, is famously associated with the love story between Queen Elizabeth I and Robert Dudley, Earl of Leicester. Following a number of major investment projects, the castle now offers groups a fascinating day out, with highlights including:
• The beautifully recreated Elizabethan garden with great arbours, a terrace, fountain, obelisks and a 30 foot long aviary, complete with birds
• A series of viewing platforms within the ruined four-storey Leicester's Building, offering the same 'heady' panoramas Queen Elizabeth I would have enjoyed when she visited the castle.
• An exhibition delving into the relationship between Elizabeth I and Robert Dudley.
• The Tudor Stables containing an exhibition tracing the tumultuous 900 year history of the castle from the 12th century to the 1930s
• The remains of the Castle Keep, State Apartments and John of Gaunt's Great Hall
• A free audio tour in English, French and German
• Pre-booked guided tours, available for an additional charge
• Lunch or cream teas can be pre-booked in the castle tearoom
For more information or to pre-book group visits and guided tours: Visit www.english-heritage.org.uk/kenilworth, call 01926 857482 or email kenilworth.castle@english-heritage.org.uk
Groups of 11 or more people receive a 15% discount at English Heritage properties and events (10% at Stonehenge). One tour leader and one coach driver are admitted free with each group (and do not count towards group numbers). Free familiarisation visits can be arranged for the Travel Trade. To discuss opportunities for group visits, to subscribe to the free Travel Trade newsletter Attractions, or to order a complimentary copy of the Group Visits Guide, call 0117 975 1349 or email traveltrade@english-heritage.org.uk
Back