Steam & Diesel Gala: 90th Anniversary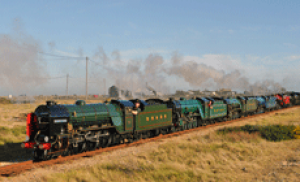 2017 marks to 90th anniversary of the Romney, Hythe and Dymchurch Railway, what better way to kick start the celebrations than with a Steam & Diesel Gala.
The unusual timetable included night running as part of the 33 consecutive hours alongside parallel runs, non-stops and of course, multiple headers. The weekend began with a parallel run from New Romney to Hythe at 09:30 Saturday morning and ended with a procession of all available 'Romney' locomotives at 6:30 Sunday evening. Eager and enthusiastic passengers arrived on Saturday morning clutching their weekend tickets, travelling on the specials running throughout the day, taking a short rest on the trains after sunset before reviving themselves for the 2am parallel run. After a short early morning rest most passengers were ready to glimpse the sunrise on the breakfast train heading to Dungeness to enjoy a hearty feast before the exciting day that lay ahead.
3 visiting engines accompanied the 'Romney' locomotives over the weekend including 'Synolda' from The Ravenglass and Eskdale Railway, 'Blickling Hall' and 'Wroxham Broad' from the Bure Valley Railway. A big thank you goes out to the teams at these Railways for organising and assisting with the transportation of their locomotives and of course running them on the day.
No.5 engine Hercules, recently back from intermediate overhaul was the star of the show on Saturday but wasn't able to take part in the 90 mile challenge that was set on the Sunday. Thankfully, with some minor alterations, Winston Churchill was able to take over and the show went on.
Danny Martin; General Manager, had this to say: Everyone knows that I like so many are fiercely proud of our railway and of the people who work for it, support it and use it. I struggle when things go off plan but being a realist I know they sometimes will. This weekend we piled in nearly every ingredient we could think of to show off our line and many people have given there absolute all to make it happen. I could never thank all individually but please be sure I am deeply grateful to all the Romney people and those from our great friends in the 15" gauge fraternity who gave an equal amount. So to see the 6 engines prepared with pride, organized with pride and saluted with pride tonight was the dream and that so many of our great supporters were there morning , noon and night to share this has been brilliant. Thank you all from us all.
This timetable was the first of its kind in RH&DR history and was an exciting experience for all involved from RH&DR staff, staff from other Railways that accompanied their visiting engines and of course the passengers that travelled with us.
Other 90th anniversary celebrations include the 90th Anniversary Birthday Party (16/16th July) and August Bank Holiday Fun Weekend (26/27/28th August). www.rhdr.org.uk
Back