Wartime Wallop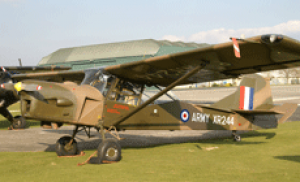 Flying displays, new and historic aircraft, military vehicles, 1940s music and dancing, WW2 re-enactment groups and children's entertainment will come together for a family fun day at the Museum of Army Flying this Bank Holiday Monday.
The Museum's flagship annual event, Wartime Wallop, will feature an opportunity to get up close to current military helicopters, including the Apache, as well as the more veteran aircraft including an Auster, Beaver and Scout.
Other attractions of the day will include model flying, a crowd pleasing departure from the HAF (Historic Aircraft Flight) team, as well as an opportunity to see as well as get up and dance in a 1940s style with the Andover Lindyhoppers, or just enjoy the wartime era music and dancing from the Decibelles.
Attendees include the Garrison Artillery Volunteers, 4th Dorset's field, office display and K2 lorry, Allied assortment, WW2 US Army Air Force display, Heartland Express USAAF, the Army Air Corps, Aldhurst Military Vehicles, the Royal British Legion and many more.
There will also be a chance to get stuck into some shooting action with Battlefield South, as well as a large bouncy castle and scientific experiment displays for kids to take part in from Genie Lab Displays.
Tickets cost £15 for adults and £10 for children, family tickets are available for £40 (two adults, three children).
Museum annual pass holders, military personnel, Army Air Corps members and their families and Friends of the Museum can all come for £5 each (with relevant ID shown on entry).
To buy tickets go to www.armyflying.com/events
All things Wartime come to Wallop for an all-day outdoor special event! Join us for a day filled of historic aircraft and vehicles, re-enactment groups and more.

Attractions include: Apache Aircraft and HAF aircraft, Garrison Artillery Volunteers, Static Vehicle Display, 4th Dorset's field office display and Austin K2 lorry, Allied assortment, WW2 US Army Air Force display: Heartland Express USAAF LHG, USMC, Decibelles, Science display, Nurses from Aldershot Museum?, AAC?, Lindy Hoppers
Back