What's on at Amberley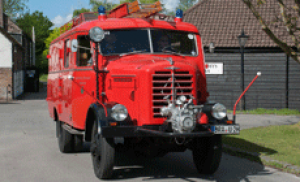 This weekend Amberley Museum had a variety of special events. Saturday saw Art@Amberley with a sell-out crowd turning their hands to tie-dyeing with a difference.
Many beautiful items were made and both visitors and staff were pleased with the outcome. "It was a really great day with lots of enthusiastic people, which helped", said Caroline Jeffery, the Museum's Education Officer who ran the event.
Sunday was our regular commercial vehicle event which this year had the added attraction of Borgward cars, many of which had made the journey from Germany to visit.
The weekend of 20th and 21st May is our ever-popular military vehicle and home front event where not only will we have a display of military vehicles, but there will be model WW2 planes, talks on D-day, period music and an air-raid siren sounding, as well as several different re-enactor groups.
Looking further forwards the late May Bank Holiday sees three days of traditional crafts on site with entry discounts for those living in certain postcodes (see our website for details).
On event days we have featured exhibits or crafts and the Museum is open as usual. Do check our website for details on all the events being held – there's something nearly every weekend.
Amberley Museum is a remarkable heritage site in the Sussex South Downs, with 36 acres to explore and over 40 exhibit buildings to visit, focusing on industrial and transport history. Take a ride on the narrow gauge railway and historic bus. Exhibits include the telecommunications hall, electricity hall, working printshop, lime kilns, steam engines and more.
The Museum is home to traditional craftspeople such as the woodturners and blacksmith, with a café, gift shop, nature trails and picnic areas. The Museum is accessibility friendly and dogs are welcome on site. We have been awarded the Kennel Club 'Best Dog Friendly Attraction Award' for Days Out 2016.
We are hosting over 50 events in 2017 from children's activity days to classic vehicle shows. We open until 29th October. Please see our website for full details, www.amberleymuseum.co.uk
Back