Two Visiting Locos Heading for Llanfair Line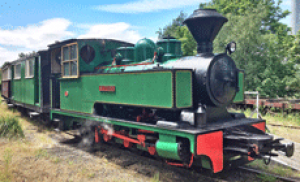 The Welshpool & Llanfair Light Railway is preparing to welcome not one but two visiting locomotives later this summer.
Bagnall 0-6-2T steam locomotive 'Superb', normally resident on the Sittingbourne & Kemsley Light Railway in Kent, and diesel-hydraulic 0-6-0 'Badger', owned by the Statfold Barn Railway in Staffordshire, will both be spending time on the popular mid Wales line.
Superb, built in 1940 under works no 2624 for the Bowaters Paper Mills at Sittingbourne, will be a star attraction at the W&LLR's annual Steam Gala on 1st-3rd September. The loco will be working passenger trains alongside demonstration workings while at some point during the weekend is bound to be posed with W&LLR resident, Kerr Stuart 0-6-2T 'Joan' of 1927. The Bagnall design to which Superb was built was evolved directly from the Kerr Stuart class of which Joan is a member.
There will also be the opportunity for Superb to be reunited with Bowaters stablemate 'Monarch', which is a resident of the W&LLR's Welshpool display shed. The line also owns bogie freight wagons originally obtained from the Bowaters line.
Other attractions at the Gala are set to include a train to view fireworks on Saturday, an intensive service including mixed and freight trains, a model railway show at the line's Welshpool Raven Square station, displays and traders at both ends of the line and vintage vehicles at Llanfair station.
During the weekend Llanfair Line members will also be welcoming back former Sierra Leone Railway Hunslet 2-6-2T steam locomotive No. 85, which has been on a Grand Tour of heritage sites in the UK after six years on display at the Locomotion museum in Shildon, County Durham.
The Gala weekend coincides with the separate entry Llanfair Garden Railway Show, held up the hill at Llanfair High School with a free bus shuttle connecting the two events. This event features large scale models, the majority powered by live steam.
Badger, built by Hudswell Clarke in 1971 to work at the Shotton Steelworks on Deeside, will be the first visiting locomotive to attend the Llanfair Line's annual Diesel Day on 23rd September. Diesel Day was introduced successfully in 2016 and sees the railway's steam locomotives given the day off, all services hauled by heritage internal combustion locomotives and including extra freight workings.
Badger was one of a trio of locomotives at Shotton that were rescued for preservation by Statfold Barn. With its long bonnet and compact cab the loco will certainly provide a different look on the Llanfair Line.
W&LLR chairman Steve Clews, who has co-ordinated the two visitors, is looking forward to seeing them working on the mid Wales line. "I was delighted to be approached by the Sittingbourne & Kemsley Light Railway about having one of their engines visit us, and by the positive response to my enquiry about a visitor
from Statfold Barn – these are great examples of the spirit of partnership among
heritage railways," Steve said.
SKLR spokesman Paul Best is equally delighted that Superb is going on a "well-deserved working holiday" to Wales; "I'm really looking forward to seeing her reunited with Monarch and also to compare her to Joan," he said.
"We hope the visit will highlight our narrow gauge heritage railway in the forgotten part of Kent – we hope to turn Superb round during her visit so when she returns to Kemsley Down her chimney points towards Sittingbourne, the same as the other steam locos in our fleet," Paul added.
Final plans for both the W&LLR Gala and Diesel Day are still being completed and further releases will be issued closer to the events.
Back