What's On at Clovelly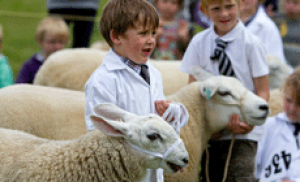 The latest events not to be missed at Clovelly including events for all the family!
Woolsery Agricultural Show, Clovelly Court
31 July, from 10am to 5pm
Summer in North Devon would not be complete without a visit to this ever popular show.
It include livestock, cattle and sheep, together with horse and pony competitions. There will be a Dairy Marquee with displays such as yoghurt and ice cream making and the chance for children to "milk a cow" along with competitions. You'll find bustling trade stalls offering locally made crafts and food with fairground rides and a bouncy castle for the children. There'll also be a family dog show, a fast and furious inter hunt relay, a display of hounds and to finish the day, a parade of vintage farm machinery.
A separate admission charge applies
Lifeboat Weekend in aid of the RNLI
5 August to 6 August, 10am to 5pm
Held in aid of the RNLI, this popular event is a celebration of the Clovelly lifeboat and its volunteer crew.
On Saturday, there will be a 2 mile sponsored sea swim from Bucks Mills to Clovelly.
Sunday will be a fun-packed day with games, competitions, entertainments, food and drink, music and other family fun in and around the harbour.
The Lifeboat House will be open to visitors and there'll be operational displays by the Clovelly lifeboat.
Normal admission charges apply
Lobster and Crab Feast, 10th Anniversary.
3 September, from 10am to 5 pm
Clovelly celebrates its famous lobsters and crabs sustainably caught by its fishermen with a great day out for all the family.

Choose from a variety of crab and lobster dishes cooked on the quay or book a table at the Red Lion Harbour Restaurant and dine on delicious lobster and seafood platters.

There'll be live folk music, chef cookery demonstrations, a prize draw for a magnum of champagne, local food and craft stalls, including plenty of freshly cooked lobsters and crabs, and beer tasting. Children will be kept entertained by street theatre, walkabout magic, balloon modelling and event-themed craft activities provided by The National Trust, also Shipwreck Survival and crab activities.

It's in aid of the National Lobster Hatchery, Padstow, who will be exibiting some of their baby lobsters prior to their release into Clovelly Bay at the end of the day. At the heart of the NLH's work is their lobster restocking project whereby local fishermen bring 'pregnant' female lobsters to the hatchery so that their delicate offspring are given a better chance in life by being raised in captivity without predators. These young lobsters are raised to a size where they can be released back into the sea and look after themselves.http://www.nationallobsterhatchery.co.uk/ Standard

Normal admission charges apply.
Clovelly Herring Festival
18 November, from 10am to 4pm
November is the time of year when the historic, fishing village of Clovelly, North Devon, celebrates its annual Herring Festival, which is held to promote these tasty, nutritious Silver Darlings and support carefully managed fishing.
There will be delicious herring specialities, an exhibition of Clovely herring fishing, cookery demonstrations, live music, street entertainments, local food and craft stalls, face painting and National Trust event-themed craft activities. Maritime historian and writer, Mike Smylie, will be there with his "Kipperland" exhibition, which is devoted to the history of the herring. He will also be turning herring into delicate-tasting kippers and bloaters in his smokehouse.
Plus a herring hunt, net making, flax processing and a Curragh on show provided by 'Flaxland'.
Normal admission charges apply
Christmas Lights in aid of the RNLI
3 December from 3:30 pm to 6 pm
Christmas is a magical time at Clovelly. A local brass band leads the procession down to the harbour, with festive Christmas carols sung by a local choir.
A hog roast, hot dogs, Christmas grog and mince pies follow and Father Christmas will make a surprise visit.
At 5 p.m. the switch is thrown and the entire village and harbour are lit up. It's a fantastic sight and there's a grand finale of fireworks to finish off.
Entrance fee: £5 per car at the Visitor Centre after 3 pm. All proceeds to RNLI
Back