Europe's Oldest Silverback Gorilla Turns 56!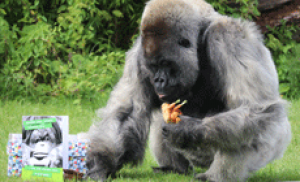 Nico the western lowland gorilla is celebrating his 56th birthday at Longleat Safari Park this weekend. It's believed Nico is the oldest silverback gorilla in Europe and the second oldest male gorilla in the world.
The special occasion is being marked by his keepers who have provided him with a selection of presents, a card and tasty gifts including a birthday cake made out of bananas and courgettes with some carrot candles.

"It's not easy to come up with new gifts for Nico but we know what he likes and so we gave him a variety of tasty treats to help him celebrate," said keeper Mark Tye.

"Although he is now a very old man, Nico's is still extremely active and in amazingly good condition considering his age.

"He is an extraordinarily impressive animal and I feel extremely fortunate to have had the opportunity to spend so much time in his company," he added.

Keepers are unsure of Nico's exact age. He arrived at Longleat in the 1980s from Switzerland and the likelihood is that he may be even older than 56.

The gorilla, who lives on his own island in the middle of a lake at Longleat, has a purpose built, centrally-heated house, complete with classical pillars and his own television.

At over half an acre in size Nico's island home also includes plenty of space for natural foraging as well as outdoor facilities for play and relaxation.

There are also a series of landscaped lookout stations and giant tree trunk climbing frames where he can sit and watch the antics of the nearby colony of three younger gorillas; brothers Kesho, Evindi and Alf.

The oldest male gorilla in the world lives in the USA and was born in 1961 while the oldest female, who also lives in America was born in 1956.
Back