The Autumn Season at Waddesdon 2017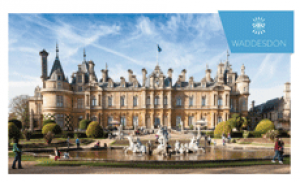 Over the next few weeks, Waddesdon's trees will transform into a sea of brilliant gold, russet and crimson as the leaves start to turn.
They are a beautiful backdrop for exploring the gardens and the bedding is still glorious so come and enjoy it before it is removed and replanted with the Spring displays in October.

Creatures and Creations
Until 29 October at the Coach House
There is also still time to see the Creatures and Creations Exhibition, included in your Gardens ticket.
Witness nature reimagined in this exhibition that sees an amalgamation of fashion, digital art and animal specimens on show. In collaboration with the Natural History Museum at Tring, Walter Rothschild's spectacular collection of natural history provides the inspiration for colourful virtual collages by Platon H and couture dresses by Mary Katrantzou.

Power and Portraiture: painting at the court of Elizabeth I
Until 29 October in the House
This exhibition explores how Elizabeth I and her courtiers used portraits to fashion their public image and promote themselves in a glamorous, dangerous world.

Afternoon Tea
Enjoy a full afternoon tea, the perfect Autumn treat, either in the Manor Restaurant after your visit to the House or at the Five Arrows Hotel in the village of Waddesdon on your way home.
For more information email groups@waddesdon.org.uk and Lacey Bonham will be happy to help you plan your visit. Telephone +44 (0) 1296 653209.
Back