Halloween Treat Does the Trick for Cheetahs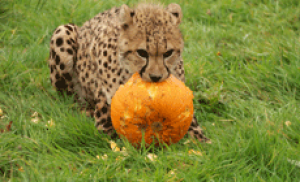 Cheetah cubs Poppy and Winston got their first taste of Halloween at Longleat Safari Park this week.
The year-old cubs were safely tucked inside with mum last October; but this year the pair are happily enjoying the changing season at their home within the Wiltshire safari park.

Keepers decided to see how they would react to some spooky carved pumpkins and, far from seeing them as a trick, both of the big cats seemed to view them as tasty treats.

"Poppy and Winston are always full of beans and constantly chasing each other, and their parents around, as well as playing with piles of fallen leaves," said Keeper Amy Waller.

"We placed a number of carved pumpkins around their enclosure to see what their reactions would be.

"They are both naturally extremely curious and it didn't take them long to start investigating and even tasting the pumpkins – although I don't think they're planning to transform into vegetarians any time soon!" she added.

Cheetahs are the world's quickest land animals; capable of top speeds of 71 miles per hour. While running they can cover four strides in a second with each stride measuring up to eight metres.

The cheetah is officially classified as 'Vulnerable' on the International Union for Conservation of Nature Red List of Threatened Species which means it is likely to become 'Endangered' unless the circumstances threatening its survival and reproduction improve.

Both Poppy and Winston, along with their parents, are part of the European Endangered Species Programme.

Alongside the cheetahs, the Safari Park's other big cats also had their own Halloween pumpkin surprises and even the giraffes got in on the spooky fun and games as part of Longleat's Great British Autumn Festival which runs until October 29th.
Back