The Lemur's 16th Birthday Party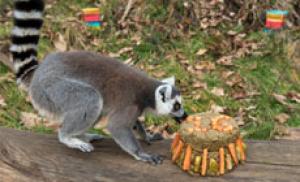 ORGANISING A LEMUR'S BIRTHDAY PARTY IS A PIECE OF CAKE… Keepers at West Midland Safari Park are celebrating the 16th birthday of their eldest ring-tailed lemur.
Birthday boy Irish was treated to a party with all of his ring-tailed family, with a birthday cake made of crushed leaf-eater pellets, garnished with apple sticks and decorated with chopped carrots in the shape of a 16. To complete the celebrations, the lemurs were gifted with colourful presents filled with tasty treats.

Being the oldest male of the troop of 13 lemurs, there were lots of treats to go round and Irish seemed to enjoy his birthday party by sharing his cake with his four sons - Bilbo, Bakari, Banafu and Caesar. Once the presents were discovered, the boys could be heard excitedly calling the girls to explore their colourful gifts - it didn't take long for the treats to disappear!

Jen Albutt, Lemur Keeper, said, "As keepers, it is great to see Irish reach a milestone age of 16. He has an important role in the group being 'the Dad' and helps keep everyone in line - well, he tries to! He loves nothing better than having a sunbathe, curling up with his family and munching on his favourite treat, grapes!"

She continued, "Breeding programmes are essential in helping to conserve species such as lemurs, as 95% of all lemur species are currently endangered in the wild. Irish has therefore played an important role as our breeding male. We all look forward to seeing him enjoy his twilight years here at West Midland Safari Park."

Lemurs are amongst the most endangered mammals in the world and face continued threats to their habitat in their native home of Madagascar. Home to three different species of lemur - red-bellied, white-fronted brown and ring-tailed lemurs - the Park celebrated these fantastic animals in 2017 by dedicating a week to raising funds for the Lemur Conservation Association, an organisation who work to protect lemurs and their habitats.

Irish first came to the Safari Park seven years ago and was born at Belfast Zoo, which is why he is aptly named. Since being at the Park, he has fathered a total of twenty baby lemurs, which is great news for this endangered species.

Although he is the oldest ring-tailed lemur at the Park, lemurs can live between 20-30 years in captivity. Now at the grand age of 16, Irish will be taking a well-earned rest and keeping an eye on the younger, more mischievous members of the troop.

The lemurs can be seen in Lemur Woods, which is included in the group admission charge of £10.50 for adults, £9.50 for children aged 3-15 and £10.00 for concessions. Adventure Theme Park rides are charged extra.

Further information and tickets are available from the Park's website www.wmsp.co.uk or by telephone 01299 402114. You can find out more on the Safari Park's official Facebook page: www.facebook.com/WestMidSafari.
Back