New for 2018 - Welcome to Longleat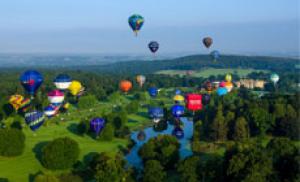 Longleat is inviting visitors to let their imaginations run wild in the Wiltshire countryside with a series of astonishing new attractions in 2018.
Watch the planet's remarkable predators come to life in front of your eyes as part of the thrilling new Predators attraction featuring more than a dozen highly-realistic animatronic animals including a polar bear, great white shark, saltwater crocodile, lion, tiger and the extinct sabre-toothed cat.
 
Longleat has teamed up with the Natural History Museum to host their fantastic travelling exhibition 'T. rex: The Killer Question' which invites visitors to decide whether these magnificent dinosaurs were truly fearsome hunters or sneaky scavengers.
 
Full-sized skeleton casts, animatronics and loads of fun dino-science will help you decide as T. rex takes over the Longhouse.
 
As well as these new events, there will also be a welcome return to Longleat for the ever popular Fantastic Fireworks display
 
Viscountess Weymouth will be heading up a two-day Food Festival in June with a number of celebrity guests and the skies of Wiltshire will once again be filled with dozens of hot air balloons as part of the hugely-popular three-day international Sky Safari in September.
 
October Half Term will see a celebration of all things autumnal with The Great British Autumn event and the biggest and best outdoor Christmas illuminations will be back as Longleat hosts an entirely newly themed Festival of Light.
 
2018 EVENTS AND ATTRACTIONS
 
Predators: March 24th – September 3rd
 
Come face to face with the planet's most astonishing predators in this awesome new feature. Utilising impressive animatronic technology you can enjoy extremely close encounters with everything from a life-sized hunting great white shark to a super-sized Venus flytrap.
 
A total of 14 different species will be on display including a deep sea anglerfish, a dive-bombing harpy eagle, a polar bear, a giant saltwater crocodile, a Komodo dragon and a spitting cobra.
 
Prehistoric predators will also be brought back to life with a magnificent sabre-toothed cat and a 10-metre-long Baryonyx dinosaur.
 
T. rex: The Killer Question: May 24th - September 3rd
 
Devised and created by the Natural History Museum, T. rex: The Killer Question is a blockbuster exhibition that uses incredible life-size animatronics, casts, static models and graphical displays to engage visitors.
 
Located in Longleat's dedicated events space, The Longhouse, and divided into five scenes, this immersive exhibition encourages visitors to take on the role of palaeontologists; evaluating T. rex's size, the power in its legs, length of its arms, the sharpness of its teeth, to decide if its physical features were best suited to catch prey or to steal carcasses.
 
Food Festival: June 23rd-24th
 
This foodie festival will feature a mix of live cooking demonstrations, music, events and activities alongside food and drink stalls selling authentic, locally-sourced fresh food and drink products.
 
Sky Safari: September 14th-16th
 
Attracting balloonists from around the world, this three-day ballooning extravaganza, features twice daily flights, tethered balloons and spectacular night glows.
 
Longleat will be welcoming over 50 hot air balloons in every conceivable shape, size and colour which will be making a series of spectacular mass launches and taking part in magical night glows throughout the three-day festival (weather permitting).
 
 
The Great British Autumn: October 20th - November 4th
 
Celebrate all things autumnal throughout the October half term holidays. Longleat will once again be showcasing some of the many traditional events associated with the season of mists and mellow fruitfulness. The spooky Ghost Tours, which see visitors exploring creepy corridors and unseen attics in search of some of Longleat House's ghoulish residents, are returning for another year.
 
Fantastic Fireworks: November 1st-3rd
 
Longleat will be staging its Fantastic Fireworks' displays in November with magical pyrotechnics set to dramatic music taking place every evening.
 
Festival of Light – November 9th – January 2019
 
After another record-breaking Christmas, the UK's first and finest festive outdoor light festival returns. Hundreds of illuminated characters and scenes will once again be transforming the estate into a winter wonderland with a brand new theme for 2018.
 
For full information on opening times, events, activities, and to buy tickets online, go to www.longleat.co.uk.
 
Each of the above events are included in a Longleat Group Day Ticket. Group rates for 2018 are Adult £24.50; Child (3-15) £18.35; Senior £22.  Group rates are available for groups of 12 or more people. Longleat also offers a complimentary organiser ticket for a group of 30 or more, and a free coach driver ticket plus meal voucher for every coach operator booking.
Back