Meet the Orb Spider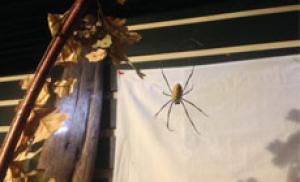 The latest inhabitant at the Stratford Butterfly Farm and on display in Minibeast Metropolis is the Orb Web Spider, also known as Nephilia inaurata.
For the first time a spider is not displayed behind the safety of glass at the Farm. This particular spider can be found in a large hoop suspended from the ceiling of the Metropolis. However the spider is kept behind a protective barrier and will not leave her hoop.

Orb web spiders make the classic orb webs frequently seen in gardens, fields and forests. Their wheel-shaped webs consist of concentric circles with spokes radiating out from the centre and can measure a metre wide - plenty of space to trap hapless insects  in the sticky silk that is so strong it can even catch birds and bats. The female's leg span can also reach 10cm, whereas the males will only span 2.5cm!

Also new to the Butterfly Farm are a number of stunning pathways, designed by artist Madeline Smith. The smooth level surfaces guide visitors throughout the Flight Area. Inspired by tropical rainforests, the new pathways are bright and colourful, incorporating tropical leaf prints and animal footprints. The animal and bird footprints are all native to the rainforests of the Americas and feature a Jaguar, Tapir, Squirrel Monkey, Parrot, Caiman Crocodile and Chachalaca bird. As well as providing a colourful and interesting set of pathways throughout the Farm, the paths are also much easier for disabled access and visitors with prams and buggies.

During half term from 17 – 25 February in the Discovery Zone children and adults can take part in twice daily 'Meet the Mini-Beast' handling sessions with one of the friendly team members. Visitors can hold creatures such as a giant African millipede, African land snail and a variety of stick insects. 
  
Jane Kendrick, Marketing Manager at Stratford Butterfly Farm said "With our new Orb Spider, stunning new pathways which offer another great improvement to our facilities as well as Meet the Mini-beast handling sessions, Stratford Butterfly Farm has something for all the family to enjoy this February half term".

To see hundreds of spectacular butterflies, insects, reptiles and spiders visit the Butterfly Farm from 10am to 5:00pm, last entry 4pm. Open every day of the week except Christmas Day. For more information including admission prices and group rates, please visit the website at www.butterflyfarm.co.uk or telephone on 01789 299288.
Back