The Longleat Military Spectacular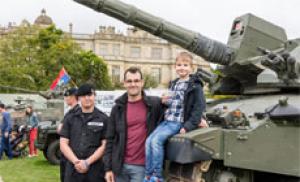 This autumn, Longleat are inviting you to visit their historic grounds to celebrate our distinguished Armed Forces, in a weekend of tribute.
On Saturday 29th Sunday 30th September Longleat will play host to a wealth of impressive armoured combat vehicles, interactive demonstrations, immaculate musical processions and inspiring individuals.
Have you considered sizing yourself up against a Challenger 2 Battle Tank, or peering at a Panther (the four-wheeled variety)? Amongst these fantastic flagship vehicles, you will see a Warrior, a Bulldog AFV, a Javelin 81mm mortar, Coyote tactical support vehicles and so many more.
Not only will you be able to get up close with these massive machines, there will also be the chance to get stuck in with interactive workshops using kits such as virtual reality headsets - as well as learning about some of the key skills needed when serving the country. From hand to hand combat all the way to rations cooking.
You will also see a military band performing a number of travelling musical performances across the grounds; the troupe will start with a stunning backdrop at the front of Longleat House and will march through to the Main Square - a spectacle not to be missed!
Another feature, planned for twilight is set to be a spectacular glow-lit parachute display team. The parachutists will jump in formation giving a dramatic and glowing display of their capability before setting down at the front of Longleat House.
The astounding capability of our Armed Forces will be displayed across the extensive grounds, as well as in the events hub, the Longhouse and throughout each day you will be immersed in an inspiring world of community and teamwork.
Group rates for 2018 are Adult £24.50; Child (3-15) £18.35; Senior £22.00. Group rates are available for groups of 12 or more who've pre-booked. Longleat also offers a complimentary organiser ticket for a group of 30 or more, and a free coach driver ticket plus meal voucher for every coach operator booking.
For more information call the Group Bookings Team on 01985 844328 or email groups@longleat.co.uk.
Back