Battle of the Bikes is BACK!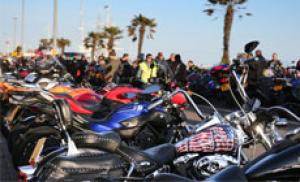 From vintage classics to super bikes, Poole Quay will see the return of the best of the bikes as they battle it out to win the coveted 2018 Dream Machines Bike of the Year competition on 25 September.
The fantastic finale gathers Bike of the Night winners from this year's Poole Dream Machines season to compete for the coveted Bike of the Year title, the Midge Holloway Trophy and cash prizes.

Supported by Dutton Gregory Solicitors, who wins, you decide. Voting is open to fellow riders, spectators and members of the public, one vote each so come along and vote for your favourite. To help spectators choose, owners provide a history for each of the competing bikes. There are no set rules - beauty is in the eye of the beholder!

Organised by Bournemouth and Poole Tourism, the event is part of Wave 105 Summertime in the South. Bikes will be on display outside the Thistle Hotel from 5.30pm with voting from 6-7.30pm. The 2018 Bike of the Year winner announced at around 7.45pm.

This year prizes include:

1st Place
£300
The Midge Holloway perpetual trophy
Valet kit courtesy of Muc-Off

2nd Place
£200

3rd Place
£100

Sue Murphy, Dutton Gregory's Head of Business Development and Marketing, said: "This is our first year as sponsors of Poole Dream Machines and it has been fantastic. It is something a lot of our staff are really passionate about. With members of the team down each week, it has great to get to know the loyal following of friendly local regulars and visitors to the event. Bike of the Year is a fantastic celebration of the end of the season, so come along and make your vote count."

For more information on Dream Machines or any other events in the Wave 105 Summertime in the South events programme visit: www.pooletourism.com
Dream Machines is held every Tuesday (6pm – 10pm), from April to the end of September.
PARKING: Please be aware that Poole Quay itself is generally a no parking area and closed to all traffic except bikes for the event from 5:30pm.
Back