LONGLEAT MILITARY SPECTACULAR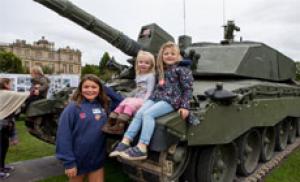 The Military Spectacular returns to Longleat for its second year this month (September 29th – 30th) celebrating all of our Armed Forces.
The two-day event, featuring main battle tanks, a helicopter, boat and other military vehicles alongside live demonstrations, marching bands and parachute displays, marks Longleat's ongoing partnership with the Armed Forces which stretches back to WWI, when Longleat House was used as a hospital for injured troops.
As part of the celebrations visitors can get up close to a variety of military vehicles; including a Challenger 2 Main Battle tank, a Warrior tracked armoured vehicle, a Panther command and liaison vehicle, an AS-90 armoured self-propelled artillery gun, a Fuchs reconnaissance vehicle, a combat support boat and many more.
There will also be the chance to get stuck in with interactive workshops using kits such as virtual reality headsets - as well as learning about some of the key skills needed when serving the country.
The Royal Artillery Band and The Band and Bugles of the Rifles will be performing across the grounds and Main Square on Saturday and Sunday respectively, there will be a climbing wall, farrier displays and a spectacular glow-lit parachute display is planned.
The parachutists will jump in formation giving a dramatic and glowing display of their capability before setting down in front of Longleat House as the culmination of a special Sunset Ceremony which also features a marching band.
Serving members of the Armed Forces and veterans will receive a discount of over 30% on production of MOD or Veteran ID cards.
As an Armed Forces friendly organisation and signatory of the Armed Forces Covenant, Longleat is also committed to supporting the employment of veterans, service spouses and partners as well as supporting Wounded Injured and Sick Service Personnel (WIS), local Army Cadet Force units and reservists.
The Longleat Military Spectacular Sept 29th – 30th at Longleat, Warminster, Wilts BA12 7NW. Admission to the event is free with a valid Day Ticket. Visit www.longleat.co.uk/whats-on for details.
Issued by Longleat. For more information please contact Ellie Dewdney or Steve Mytton on 01985 845415 or email steve.mytton@longleat.co.uk .
Back