Mark Payne Solo Exhibition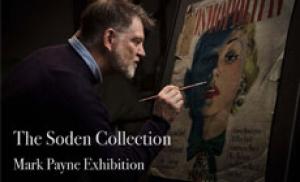 Hyper-realist artist Mark Payne and his solo show is next in the calender to be showcased at The Soden Collection.
VIP Preview Friday 5th October between 6-8pm
Please RSVP here.
Exhibition Commences Saturday 6th October.
Mark Payne has shut himself away over the last 6 months to produce some very exciting new work for this exhibition. His hyper realistic paintings need to be seen to be believed that they are infact paintings!
Mark Payne paints with just 4 colours, adding layer apon layer of thin transluscent oil to the canvas. Once each layer is added and left to dry the canvas is then sanded down to take away any brush strokes. This long, well thought out process reveals these stunning paintings that you can just loose yourself in or even want to turn the page of the book!
See for yourself the beauty of these paintings by attending the VIP Preview.
For any further information on anything listed before the preview please contact Jonathan on by email at jonathan@thesodencollection.com or call the gallery on 01743 34 14 00 / 07403 99 99 01
Back