KOALAS AND WOMBATS GET VIP TREATMENT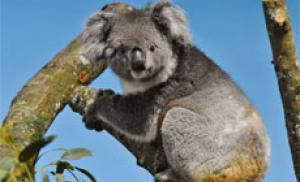 A group of five koalas and two wombats has arrived at Longleat following an epic journey from Adelaide, Australia.
The iconic marsupials, which are from Cleland Wildlife Park near Adelaide, in South Australia, were special guests on a Singapore Airlines Cargo aircraft accompanied by keepers from Longleat and Cleland as well as a veterinary team.
After touching down at Heathrow on Thursday night and being picked up from the runway by a fleet of Longleat's iconic zebra-striped Safari vehicles, the animals were transported to the Wiltshire estate where they were given a full health check and declared fit and well.
Longleat's Graeme Dick, said: "We're delighted to announce the arrival of the koalas and wombats here at Longleat. All appear in excellent health and are settling in well.
"This is the culmination of a two-year project and the beginning of an exciting new era. We hope these animals will act as conservation ambassadors for the species, and promote conservation and education about Australian marsupials," he added
The koalas' arrival is part of a ground-breaking initiative by the Government of South Australia to enhance the management and conservation of the koala.
The Government of South Australia are particularly passionate about this project as it enables valuable research into conservation that will help protect the koala population in South Australia as a preventative measure against becoming endangered.
Longleat will act as a European hub for the newly-created International Koala Centre of Excellence (IKCE).
Longleat custodian Lord Weymouth has also agreed to be the International Patron of the International Koala Centre of Excellence (IKCE) based at Cleland, a new initiative to raise funds to support research for koala management and conservation.
"We have been working closely with the team at Longleat to ensure the koalas and wombats receive the very best care and attention when they settle in," said Cleland Director Chris Daniels.
"The new facility is fantastic and has been specifically designed with these animals in mind. Their arrival in the UK is a very exciting moment and will undoubtedly help raise awareness of these unique animals," he added.
They will now spend around 6 months away from visitors to the park as they settle into their new home alongside a pair of southern hairy nosed wombats, which are the koalas' closest relative.
Their spacious new enclosure, called Koala Creek includes a natural stream, eucalyptus trees, climbing poles, naturally-themed indoor and outdoor habitats, viewing areas, interpretation boards as well as a Koala Care unit. The new purpose built facility is due to open to visitors to Longleat from Spring 2019.
Longleat will be the only place to see koalas in England, one of only two locations in the UK, and the only one in Europe to look after southern koalas.
There are two main subspecies of koala; the smaller northern variety and the southern koala, which has much thicker fur and can weigh twice as much as their northern relatives.
"As Australia's most frequent foreign visitor, including almost 35 years of flights to Adelaide, Singapore Airlines is as captivated by the koala as any other and fully supports the conservation programme which is bringing them to the UK.
We have been delighted to work closely with the team at Longleat to plan the animals' journey and ensure they received the very best of care; including, mostly, lots of eucalyptus!", said Sheldon Hee, General Manager, Singapore Airlines UK and Ireland.
In 2012 the koala was listed as 'vulnerable to extinction' in some parts of Australia.
Back