Town bonfire set to be popular again!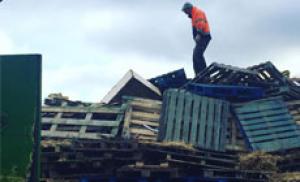 The Craven Arms Community Bonfire and Fireworks at Shropshire Hills Discovery Centre is set to be a great success again this Saturday. With over 450 tickets sold in advance, the team are preparing for another impressive turn out at their annual event.
Sponsored by ATS, Titanium Fireworks (responsible for the jaw dropping displays in London on New Years' Eve) will be putting on an astounding display and Sunshine Radio will be bringing their street team for children's entertainment.
Jade Marriott-Lodge, Marketing Manager at the Centre, says "We are looking forward to another great event this year. The issue of a number limit has been resolved so we are expecting a good turnout and it has been great to see the local community supporting it by buying their tickets ready. It will be even bigger and even better than last year with children's rides, extra stalls, entertainment, full bar and more. Car parking will be limited so we are urging all those that can walk to do so."
Advance, fast track tickets are discounted: £3.00 per adult, £1.50 per child and £7.50 for a family of 2 adults and 3 children. On the gate, tickets will be £3.50 per adult, £2.00 per child and £10.00 for a family (2 adults, 3 children).
Gates open at 5pm, the bonfire will be lit at 7pm and fireworks are at 7.30pm.
Entry to the Discovery Centre and Onny Meadows is free but there is a charge for visitors to enjoy our Shropshire Hills Through Time exhibition and visit our mammoth. The Shropshire Hills Discovery Centre offers an extensive programme of family events, adult courses and a variety of activities for the whole family. The unique grass roofed building houses a replica of the famous mammoth skeleton found in Shropshire. The café serves delicious home-cooked food. Browse our extensive shop selling a range of quirky gifts. Every half term and school holiday we provide hands-on family activities. For further details call
01588 676060
or visit the website:
www.shropshirehillsdiscoverycentre.co.uk
Back