Half Term Full of Fun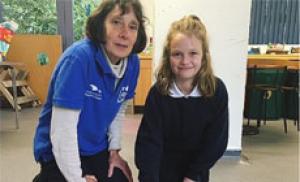 Looking for some fun with the kids this October half term? The team at Shropshire Hills Discovery Centre have a week jam-packed with activities, sandwiched between two iconic events, perfect for keeping busy on a budget.
Kicking the week off with a bang will be the centre's bonfire and firework display on Saturday 27th October. With children's rides, refreshments to include a hog roast, a full bar and family activities, this will be the perfect Autumn night out with something for everyone. Discount, fast track tickets are available from the Centre's reception desk now.
Every week day of October Half Term (Monday 29th October-Friday 2nd November) will be the Mary Anning and the Dinosaurs children's activity. Examine some local fossils and see them through Mary Anning's eyes and then create an instant fossil shell to take home. Take part in a virtual dig, becoming a palaeontologist and uncovering some dinosaur bones. Can you piece them together and work out what type of creature you have discovered? As the discoverer you will then be able to name your find. £4 per accompanied 3-11 year old, booking advised.
Continuing the dinosaur theme, the team bring you Dinosaur Dining on the Tuesday of half term, 30th October. Become a dinosaur chef in this hands on cookery session. Make fossil biscuits, bread bones and other delicious treats to take home. £7.50 per accompanied 3-11 year old, booking essential.
To celebrate Halloween falling in Half Term this year, the team are putting on an extra session on Wednesday 31st October, Frankenstein's Halloween Lab. Visit Frankenstein's Lab: make a haunted screaming cup, a ghost to rise at your command and pumpkin slime with real pumpkin.
£4 per accompanied 4-11 year old. No need to book, just drop in. In the café, decorate spooky biscuits and eat a dead man's fingers.
The week rounds off with the centre's annual Craft Fair which is a little earlier this year on the weekend of 3rd and 4th November. The Frost Fair this year will be filled with local exhibitors, all showcasing their handmade craft items, perfect for getting that special gift. The centre's award winning café will be providing delicious minced pies and mulled wine to get you in the festive spirit.
Back