Look Again Project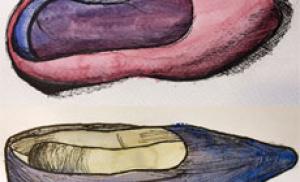 A project at The Salisbury Museum to reinterpret and redisplay the museum's nationally significant collection of costume and textiles, dating back to the 16th century, is underway. The museum is working with young people aged between 11 – 25 on all aspects of the project.
The project was made possible by a grant of £115,360 from the Museums Association Esmée Fairbairn Collections Fund. This is part of a series of awards to museums across the UK for projects to help develop collections to achieve social impact.
The 'Look Again: Discovering Centuries of Fashion' project started in March and has already included working with 11 – 18 year olds at an afterschool club at the museum and gifted and talented pupils from St Joseph's Catholic School who have attended a series of workshops.
The young people taking part in the after-school club, called TSM Collective, have been working with artists to create works of art inspired by some of the items in the collection that are currently in storage at the museum.
Katy England, Learning Project Officer at The Salisbury Museum said, "The young people have been working with artists as well as a team of heritage volunteers from The Arts Society, who are in the process of re-cataloguing the collection. As the heritage volunteers open the boxes to work through the items, the young people have been sketching them and using this as their inspiration. Some amazing works of art have been produced, and we have been adding these to the project's Instagram account lookagaintsm."
Those taking part in the club have enjoyed the opportunity to develop their creative skills and work with objects from the costume collection.
Clara Henley who is a member of the TSM Collective said: "It has broadened my abilities to work with different media, helped me to be more creative and helped with my GCSE art. It is interesting to see the objects in the costume store as it helps us focus on the details that we wouldn't otherwise see. It is cool to see pieces from history that we can incorporate into our art."
The ultimate aim of the project is to work not only with these young people, but also other groups from local secondary schools and colleges, including Wiltshire College, on all the different aspects of the project. The museum will also be running workshops for local people to take part in.
The collection itself contains over 5,000 individual items including fashion and military dress from the 18th and 19th centuries; samplers, quilts and accessories including gloves, shoes, sunbonnets and buttons. The museum also has one of the largest collections of smocks in the UK.
Back