Santa Takes to the Tracks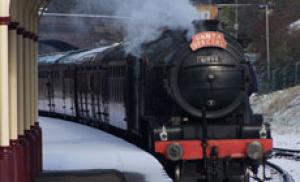 Local businesses raise more than five thousand pounds to give hundreds of children a treat.
The Great Central Railway will welcome hundreds of children living with cancer on Saturday 24th of November. They'll travel on board a steam train with their families, meeting Santa and starting the festive season in style.
The railway has worked with local charity PASIC to welcome the children. PASIC gives families in the East Midlands practical and emotional support at what can be a really difficult time. With the Great Central Railway being charity funded itself, it could not have afforded to shoulder the entire cost whereupon more than five thousand pounds has been donated by local businesses towards the total cost. They include Next, Tarmac, Smooth Radio, William Davis, EFS, Magna Signs, Nationwide Windscreens, OCS and its customers, Bond Street Car Service, Mortons and Caterpillar Staff.
Michael Stokes of the Great Central Railway said, "Our Santa trains are always popular and this year we wanted to make the event extra special. We are looking forward to welcoming the children and their families on board our special trains to meet Santa. We could not have invited them all without so much support from the business community. Along with PASIC we are very grateful."
Heidi Bucknall, Event's co-ordinator at PASIC said, "It's amazing to have this kind of help from Great Central Railway, it will have a real impact on families living with childhood cancer in the East Midlands. We're very excited about the Santa train and would like to thank everyone who's contributed. The group of nearly 400 are looking forward to a special family outing and much needed break from treatment and all the difficulties living with cancer brings."
After the special day of Santa trains, the Great Central Railway's award winning Christmas services continue at weekends and some midweek days up to the 24th December. (Advance booking is essential.)
Back