February at Discovery Centre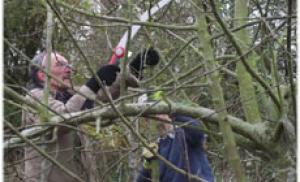 The Shropshire Hills Discovery Centre is offering a multitude of activities this February, including events for the kids during half term.
Wednesday 9th January – Tuesday 26th February
Nigel Glaze – Journeys, Pilgrimages and Skirmishes from the Welsh Marches
Nigel is a Shropshire based artist who has been exploring landscapes across the Welsh marches from the Wrekin to the tip of the Llyn peninsular for the past three decades. His work celebrates what we personally bring when looking carefully at the landscape.
Claire Allen-Brunn

Using a variety of mediums including acrylics, inks, pencils and watercolour, Claire explores the Shropshire countryside and wildlife inspired by travel in these limited edition prints. Claire finds the Shropshire countryside and rural way of life presents her with a plethora of potential subject matter.
Free entry. All pieces on display available to purchase.
Become a Habitat Helper! Sunday 3rd February 

Join the habitat helpers every first Sunday of the month to give the meadows a little TLC. All ages and abilities welcome, tools and refreshments provided.
Quiz Afternoon

Join the team at the Discovery Centre for a friendly, fun and relaxed afternoon of six quiz rounds and a table round accompanied by tea and cake for just £3.50 per person.
Individuals welcome, maximum of 4 allowed in one team. Prizes for winners.
Tree Pruning Workshop

Saturday 9th February 10am-1pm

Our community orchard is full of maturing heritage varieties of apples, pears, plums, cherry, medlar and hazel-nut trees. With an introduction covering the what, where, when, why and how to prune fruit trees, come to the Centre and learn the skill of pruning. We will begin a pruning programme for the apple and pear trees in the community orchard. Later in the year come and help prune the stone fruit trees. 
The session will be run by Karen Limbrick, a Garden Organic/Three Counties Traditional Orchard Project 'Orchard Champion' and member of Marcher Apple Network.
Please bring secateurs, loppers, pruning saws or bowsaws if you have them. Stout boots and gardening gloves are essential. Some tools/gloves will be available on the day.
25 per person. Early bird booking discount of £5 if booked before 9th January 2019.
Winter Wellbeing Cookery Course

Thursday 14th February 10am-2pm

Prepare and eat colourful, vitamin fuelled dishes to kick start the year. Join Milly Rees as she explores healthy, wholesome food for the ultimate Winter Wellbeing course. 
Winter can be a tough time for body and soul. This hands-on session is all about fighting the blues with vitamin boosts and happy food. 
In our pop-up kitchen you will create delicious breakfasts, lunches, suppers and snacks specially designed by Milly to support your immune system, boost your intestinal flora and recharge your batteries. You'll leave with your delicious food, a new zest for cooking and a real spring in your step!
Just £35 per person, booking essential.
How To Train Your Dragon – February Half Term Activity

Monday 18th – Friday 22nd February 2019

The Harry Hooligan's are recruiting potential tribe members at SHDC. You will be judged at the end as to whether you will be able to go forward into the Dragon Initiation Program. Make a horned hat and practice your yelling, start your own 'Incomplete book of Dragons' notebook with the dragons that visit Shropshire. Learn some dragonese (if you swear never to let Gobber the Belch know who you learned it from). Practice catching sheep launched from a catapult. £4 per accompanied 4-11 year old, booking advised.
School for Dragon Cookery – February Half Term Activity

Tuesday 19th February 2019

Make food you could serve for Fishlegs and Hiccup. Make Dragon Scale nachos, Yaknog, Dragon Poop sweets and more! £7.50 per accompanied 4-11 year old, booking essential.
For information please call 01588 676060 
www.shropshirehillsdiscoverycentre.co.uk
Back