MAD Half Term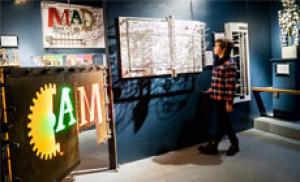 Visit the MAD Museum (Mechanical Art and Design) this February half term from 16 – 24 February and see two brand new exhibits. Located in Stratford-upon-Avon's most popular tourist street, also home to Shakespeare's Birthplace, visitors can watch and interact with over 90 mind-boggling mechanical creations such as flying mechanical birds, clever clocks & witty characters. They can also build marble runs and learn some engineering and physics principals along the way.
Two new pieces have recently gone on display for visitors to enjoy. The first, designed by Artist David Williams, demonstrates how magnetic fields work and is known as Planetary Number 1 and Number 2. The exhibit is technically two sculptures which produce different geometric shapes. The inner workings of the sculptures consist of Meccano mechanisms. Using a planetary motion, the rotation movement moves the magnets, which in turn, trigger a reaction on the surface. The magnets force the iron fillings to travel through the sand making interesting geometric patterns.
The second exhibit, known as The Sextus Wooden Clock, was built by Clive Stewart and designed by David Atkinson. Clive was challenged to follow over 30 pages of instructions to put together hundreds of varying parts. The construction took around a week to complete. The clock is 'high geared' so it runs for a long time without winding, but the force driving the cogs is very small.
Another reason to visit this half term is to take advantage of an extra-special Family Super Saver ticket which combines visits to The MAD Museum, Shakespeare's Schoolroom & Guildhall and Stratford Butterfly Farm. Visitors can see all three attractions and save over 15%. Family tickets cost £57 (2 adults & 2 children) and a ticket for an extra child is £9.60. Visitors have 1 month to visit the venues and tickets can be purchased from each attraction.
Katie Wilson, Head of Marketing said "We're delighted to have two brand new exhibits on display for our visitors to enjoy – both are fascinating to watch and interact with!"
The Museum is open Monday – Friday from 10:30am – 4:30pm and at weekends/holidays from 10am – 5:30pm. To find out more information about The MAD Museum please visit
www.themadmuseum.co.uk
. Please visit the online shop
www.madfactory.co.uk.
Back